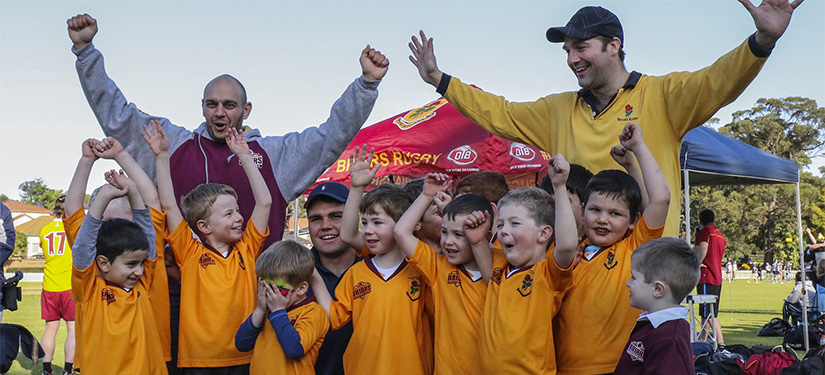 About Briars Junior Rugby
Briars Rugby History (Seniors)
Briars being a remarkable club had a remarkable birth. Fourteen boys, aged from 9 to 13 years, met on the disused fowl-yard at Bob Clark's place on the 7th August 1918. They were there to inaugurate the Club, which had been the idea of Jack Stone. The first major decision was to name the Club. After much debate, they named the club after the house "The Briars". Thus the brand new Club was named "The Briars Sporting Club".
The Briars have grown as a sporting club since then, but still proudly wear maroon and gold when playing sport for Briars. Today Briars Rugby Union fields 4 Grade teams, catering for all abilities in the senior age groups, so we were very excited to announce the introduction of Junior Rugby in 2015 when they enlisted their first team in the Inner West Mini's Rugby Union Competition.
About Junior Rugby and its Rules
Junior rugby is played to a modified version of rugby. The Australian Rugby Union believe that younger rugby union players should be introduced to the game gradually through its Pathway program.
The pathway is based on research on children in sport which concluded that modified pathways offer great opportunities for children to develop skills and confidence. Children as young as six can enjoy rugby through a non contact versions of the game.
Pathway Rugby should be free flowing with the purpose of developing the skills of running, balance, ball handling and contact.
Junior Rugby for U6 – U7 (Minis)
This form of rugby is for the complete novice. Players compete in a non-contact "tag" based game that focuses on ball handling and running skills.
This 7 a side game is played on a 1/4 field designed to combine basic skills with Rugby Union concepts in a fun environment, suitable for both boys and girls.
Junior Rugby for U8's (Minis)
The Under 8 players are introduced to a more technical approach to the game, with tackling and line-outs. This is still a 7 a side team, playing on 1/2 the field.
Junior Rugby for U9's (Minis)
The under 9 players are taught techniques to improve their tackling and line-out skills, and are introduced to scrums. There is also an increase in the number of players per team to 10 a side, playing on 1/2 a field.
Junior Rugby for U10-U12 (Juniors)
The under 10 and 11 players are taught techniques to improve their kicks in general play and contested scrums and line-outs. There is also an increase in the number of players per team to 12 a side, playing on a full field (less 10 metres width). Under 12 play on a full field with 15 players per team.
Rugby for U13-U16, U17-U18 (Opens)
From under 13 to under 19, rugby games are intended to further develop the individual skills, fitness and team work
of all players in accordance with their age and understanding of the game. Players play to modified laws designed to
make the game safer and more enjoyable.
Briars Grading Policy
Where there are one or more teams in the same age group, a 'mates play with mates' policy will apply wherever
possible, player numbers permitting.
Briars Junior Rugby Union believes that participation and basic skill development is the most important aspect at these ages. Every attempt is made to create an enjoyable environment for all boys and girls.
If you are interested in registering online for the Minis U6-U9 or Juniors U10 – Open (U17-U18) competition,
click on the registration button below.