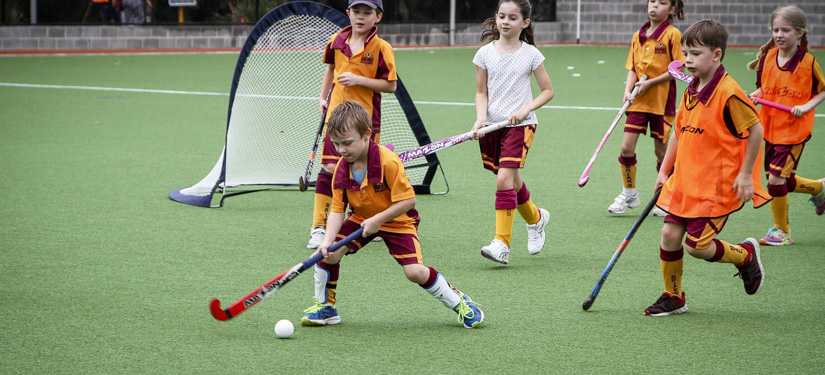 Play Junior Hockey with Briars!!
The North Area Competition
Briars Juniors participate in the Sydney North Area Hockey Association competition. We enter competitions for age groups U/9 (modified comp once a month), U/11, U/13, U/15 and U/17. All age groups are mixed competitions for both boys and girls, and we welcome beginner players at any age from 5 to 17.
Competition games are generally Saturday mornings, although some age groups occasionally have games scheduled on Friday evenings.   Training is held on Wednesday afternoons beginning at the end of February.
The competition commences in March and is usually completed by mid-September. We realise that families have a life outside of hockey so there are no games scheduled at Easter or long weekends and school holidays are generally left hockey free.
U/9's – the Minkies Program
Kids from as young as 5   to age 9 are invited to participate in our Minkies program. This consists of non-competitive fun games, run on Wednesdays at 4:30-5:30pm at Cintra Park. New registrations are accepted throughout the hockey season.   In 2010, a modified U/9 competition was introduced by the North Area Association and Briars participated in four Saturday morning sessions, one each month in May, June, July and August.   It's a perfect, friendly, fun way to introduce young kids to the game of hockey.
Match Venues
All North Area competition matches are played on international standard synthetic turf.   Games are played at venues from the North Area Association including Briars home ground, Cintra Park, located in Queens Road Five Dock (next to the Concord rugby oval).   Other venues are located in Pennant Hills, Ryde and Turramurra North.
Coaching
Quality coaching is the all important ingredient in children getting the most out of their hockey experience. Competition success at the junior level is secondary to the children's enjoyment. Good coaching means that each player can reach their potential. For some children this can simply mean that they are able to make a positive contribution to a team, for others it can mean progressing to the elite level.
Briars are pleased to have a variety of coaching staff working with our kids from volunteer hockey-playing parents to senior hockey players to experienced Sydney Junior Hockey Association coaches.   No matter who they are, they strive to impart their knowledge and experience to Briars Juniors in a fun, relaxed atmosphere of positive teamwork.
Cost
Our U/9's program is $110 for the season and our U11 through to U17's is $165 a season.
Equipment
Girls and boys can turn up to training in normal athletic clothing. A mouthguard and shinpads must be worn at all times on the field. All equipment can be purchased from the clubhouse at Cintra Park. Hockey stick prices start at $20.
For players in U/11, U/13 and U/15 competition, you will need to purchase Briars socks and shorts, available on sale during each training session at Cintra. Team shirts are issued to each player at the beginning of the season, a deposit must be paid when collecting, and returned to your team manager at the end.
Player development
Briars Juniors aim to assist the development of any committed and enthusiastic junior to play hockey at a higher level.   All players will be given information regarding holiday hockey clinics, representative trial opportunities and future pathways to elite-level hockey, so that any player who loves their hockey and wants to be a Hockeyroo or Kookaburra can follow their dream!
Contact
For more information on Junior Hockey contact