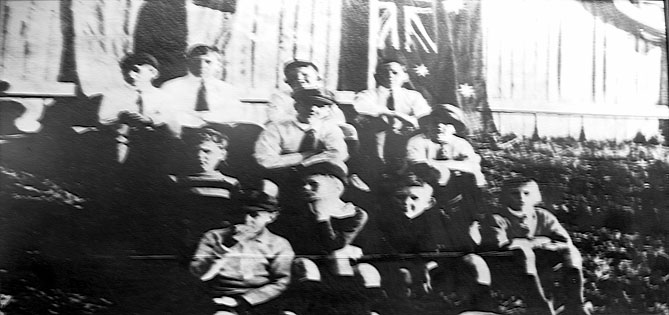 The Briars Sporting Club History
THE NINETIES
A highlight of the decade was our celebration of the Briars 75 th Anniversary. which  officially commenced with a Gala Cricket Day between a President's XI and a Present XI at Rothwell Park.  The Briars early involvement in athletics was remembered by the holding of an Athletics Carnival at St Luke's Oval.  Both Rugby and Hockey held 75th Anniversary Days, Rugby at Rothwell and Hockey at the State Sports Centre.
Financially the club was already in a strong position due to income from current investments and property rentals with favourable bar trading and receipts from our Golf Tournament activities.   The looks of George Street had changed with factories from John St to Park Rd being replaced by the one huge Commonwealth Bank Building to house their computers and computer staff.  For various reasons it was deemed necessary to spend significant sums to upgrade the premises.  
"This work will guarantee that the future of The Briars income from the commercial sites will be stable and viable and that the ever increasing maintenance costs we were suffering from a decaying building should be allayed for many years to come." 
During the latter part of the decade Bar takings lowered and the last couple of years saw the Briars make their first and second ever "negative surplus".
Early in the decade costs of running sports increased dramatically.   Sadly, gone were the days when members could be charged on a pro rata basis for what it costs to run the sport.   
After the 75 th Anniversary, Chris Walker was thinking of ways how the Briars could ensure the continuance of the unique principles established back in 1918, and therefore proposed the setting up of The Briars Foundation, which was implemented due to the drive and determination of Chris and others.
Cricket had the most successful decade to date, much due to the admirable efforts of Chairman, Gerard Price who was also in 1 st grade every year and captain until the last few years when brother Paul took over.  Briars were Club Champions four times, most grades reached semis most years and as well as the 4 Grade sides the club fielded at various times City and Suburban, Under 24's, Under 16's and Under 14's.  In 1991 a 13 man touring party played in Singapore and Malaysia, followed by the UK tour on the 75 th anniversary.
As well as scoring success Briars played on two of the best surfaces in Shire Cricket at Rothwell Park and Ron Routley Oval.  Rothwell had been made very attractive by the installation of the surrounding picket fence.
Rugby had a decade of ups and downs, having kicked off the 1990's in 2 nd Division of Sydney Suburban Rugby (competing for Barraclough, Stockdale, Blunt and Richardson Cups) and were placed in the middle of the Club Championships reaching the major semi in Stockdale Cup (named after Ted), and finished the year with a rugby tour of NZ.   In '92 4 th grade were Premiers and in '93, 1 st grade were minor Premiers and runners-up.   As a result of NSW Rugby "downsizing" the Sydney grade competition, 1994 Suburban Rugby increased in size and in 1995, 2 nd Division subbies had 19 clubs that had to be reduced to 10.  Briars were one of the clubs relegated to 3 rd division in "96 where Briars competed for Clark, Farrant, Campbell and Nicholson Cups.  Briars won the Club Championship and the Clark Cup (named after our Club Patron) as undefeated Premiers and had all four grades in the semifinals and so were promoted back to 2 nd division.    In 1997  Briars were minor premiers and won the Clark Cup but did not feature in other grade semifinals.  In 1998 we came 3 rd in the competition  in Clark Cup.  Sadly, 1999 and 2000 saw Briars rugby back in 3 rd Division and in 2000 we struggled and were not able to make the semifinals in any grade.   Golden Oldies had a full turn out for the Festival in Perth in 1991 and had to import some players from other clubs to make up the numbers on the field for the 1993 Dublin turnout.
Hockey improved in all facets during the decade.   From an average start, playing 3 grades on "paddocks" (when questions were raised as to whether "we may not be playing at the right level for both the cost of playing and the performance required") to graduating to an "Olympic" standard home ground, fielding 6 grades in the Premier Division of Sydney hockey, Junior hockey having teams Under 17, 15 and 13 and two Briars Womens Hockey teams in the Ryde-Eastwood Div 2 competition .
Milestones on this path to success were, in 1992 reaching the Grand Finals in 1st grade and U17s, in 1993 1st grade premiers, in 1994 winning the Club Championship and 1st grade premiers and reaching the semifinals in 2nd and 3rd grade, in 1995 coming 3rd in 1st grade but adding Under 11s 15s ("minkey" programme) and 17s to the club, in 1996 Hockey did not enjoy a good season, but really started to get their act together in 1997 when Hockey came forward with the innovative concept of forming a Hockey Development Academy to identify and assist talented players which contributed towards 1998 being an outstanding season, culminating with winning the club championship and being invited to compete in the revised Premier Division.      1st grade lost only one game all season and the 1sts and the Under 17 side were premiers.   In 1999 1st grade came 5th and we fielded strong junior sides and our two womens sides were joint premiers in their division.   In 2000 the Club finished 4th in the Club Championship, 1st Grade made the minor semifinal and the 2nds made the preliminary final while the womens sides came 2nd and 3rd.  John Price contributed significantly to Hockey's progress and a highlight of the year was the opening of the new Briars first class home ground – Cintra Hockey Complex.
Squash started the decade with 4 teams, rising to 17 teams at one stage and for one year a ladies team then ebbing back to 9 teams.
Strength from over 50 players (at times) playing over a range from premier grade down to E grade.  
Apart from the many pennants and silverware accumulated highlights were: in 1993 fifteen or so players with a handful of partners embarking on a trip to Hong Kong where they performed extremely well against some tough opposition; in 1994 the club championship being won for the second time in three competitions; in 1995 13 tourists with 10 players touring to NZ.  A disturbing feature was the continuing moves because of courts closing,
Basketball fielded two and three teams in the Parramatta Association Competition in 1991 and 199.  In 1993 won three premierships from four grand finals however Basketball was suspended as a major sport during 1994 because most players chose to play under a less formal system than to be members of the Briars.
Club communication was handled by the production of the newsletter "FOCUS" which was usually produced every two months and mailed to each member.
The Club Social activities started the decade being well supported and enjoyed thoroughly by those who participated. There was the "Old Members" night at the club, the Annual Ball and The Annual Dinner mostly at Concord Golf Club but also at Concord Recreation Centre, the Trot Night, Christmas Party and a "Baked Dinner Night" firstly at the club but because of its popularity needed  bigger premises so was held at South Strathfield Bowling Club and up to three Golf Days a year.  Many older members (recent retirees etc) treated the fund-raising assistance at Golf Championships as a good get together.  In later years falling numbers saw the Ball change to a Dinner Dance and the last two years of the decade saw the position of the Social Chairman as vacant and no reports are available.
The social golf days were always popular and on a couple of occasions there were three in the one year.
Intra club and inter sport club competitions via snooker, billiards, table tennis and darts were, some years, very popular.
Sadly, the decade saw the passing of some great Briars.   In 1994 our most noted founder, Bob Clarke passed away, and next year our most popular Briar, Ted Stockdale followed.   Other noted Briars who did not last the decade were:  Bill McLachlan, Chris Mitchell, Bruce Trevenar, Don Walker and Harvey Ford.