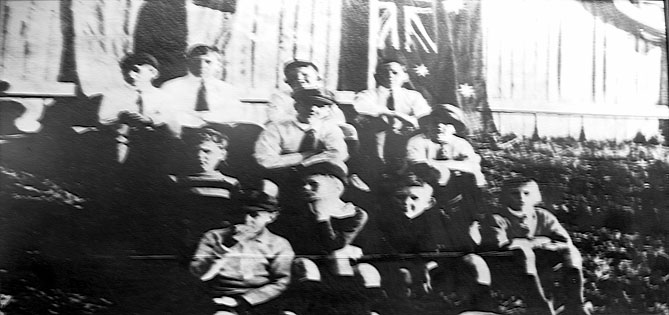 The Briars Sporting Club History
THE EIGHTIES
The promise of the eighties started with the hope of developing the new ground and club house at Belmore. This was not to be.
Despite a grant in 1980 of $45,000 from the Department of Sport and Recreation. The club's Directors eventually decided that the financial demands would place the club's future in jeopardy, and so the project was abandoned. That the club had been searching for just such an opportunity for many years made for an extremely disappointing conclusion.
Membership fluctuated across the period.
In 1979-80 membership stood at 449 and peaked at 467 in 1985-86. It then declined to 415 in 1987-88 and no figures were recorded in 88-89.
The club's trading position remained quite strong, and surpluses were recorded each year.
In 1979-80, the club showed an excess of income over expenditure of $4369 and $21,859 in 88-89.
Apart from satisfactory bar trading, income from the club's involvement in professional golf tournaments was an innovation.
In 1980, following a discussion with the golf promoter Bob Tuohy, The Briars were contracted to provide assistance in course management for the NSW Open. Some twenty members handled a variety of duties, each day, for the duration of the tournament, netting $1,500 for distribution amongst the sports.
Praised by Tuohy & Associates for our work and commitment, we were onto a good thing.
By 1989, total receipts from this relationship were $68,461.
In other financial areas, $42,600 was spent on refurbishing the club's premises in 1980-81, which was well overdue. New bar equipment, carpets, painting and a re-modelled office
A more commercial approach was taken with the rent from the ground floor shops, with the leases now providing for CPI increases.
In 1986-87, the club together with Concord Council and the Dept of Sport and Recreation had funded a major upgrade of the dressing rooms and facilities at Rothwell Park, putting an end to the appalling conditions that the members and opposition players had to endure. For the rugby boys, they could now look forward to hot showers for the full afternoon rather than for just third grade. Amazing.
All sports had their moments, with squash standing out during this period winning in several divisions and finishing the decade with ten pennants across all grades from A2 to F1.
Cricket won premierships twice in A grade, and in C and D grade, and were Club Champions in 82-83. The first time in 20 years.
Garry Schomberg broke a long standing club record by registering 809 runs in the 84-85 season, only to see it eclipsed by Bart Pozeulo two years later with 921 runs.
The strength of the undefeated 84-85 A grade side , can be seen in the statistics, with Garry Schomberg and Greg Wallace also establishing a new record for an opening partnership of 264 runs.
Apart from Garry Schomberg, other aggregates by batsman in this premiership winning side were: Greg Wallace 733. Bart Pozeulo 626. Peter Siebels 324. Gerard Price 319 and Steve Schomberg 223.
A 15 years old schoolboy, Phil Alley, came to play cricket in 1985, and moved on later to represent both South Australia and NSW in Sheffield Shield. A left arm quickie who was known as the tallest player in Australia.
Cricketing links were established with Croydon Juniors with the club providing coaching and team management. A number of their players eventually graduated to The Briars, most noticeably the Price brothers.
The 80's was a roller coaster ride for Rugby.
1980 got the decade under way with Kentwell, Burke and Whiddon Cup sides all making the finals and Whiddon Cup into the Grand Final. Alas no trophies but third in the important Club Championship
Unfortunately we didn't rise to those heights again except for the wonderful season in 1985, when the Kentwell side reached the Grand Final only to lose to Matraville 20-10..
By 1989 we had slipped into relegation.
Playing numbers were generally satisfactory, but attracting sufficient quality players to provide the necessary depth was the club's Achilles heel.
In the area of "social rugby" The Briars entered a team, or more accurately, a large group of players, in the Golden Oldies Rugby Tournament held in Sydney in 1983. Some forty five members participated in the week long event.
Two years later, twenty nine players plus supporters, journeyed to the Golden Oldies Tournament in London.
The Geoff Archibald Trophy was established in 1984 for the outstanding rugby player in his first season.
Conversely, Hockey was promoted to First Division in 1980, but premiership success proved to be elusive. In 1985, Hockey also moved, after 30 years but with no regrets, to Cumberland College at Lidcombe. The playing surface at Burwood Park had always been sub standard and there were no changing room facilities.
Basketball became an official club sport in 1983, and by 1985 there were five men's teams competing, with the club also sponsoring three women's teams. Three premiership trophies were added to the club's collection, with many members adding basketball as their "second" sport.
Social activity across this period was quite strong and varied.
Picnic days, Golf. Car rallies. Trots nights. Rock 'n Roll nights. An annual ball and the Annual Dinner, were all designed to bring club members together.
Friday nights at the bar were  always a busy time, and Saturdays after match drinks were almost mandatory, although the booze bus was having its effect.
During the decade, we lost three long standing, loyal members.
Stan McGregor in 1982. Audley Land in 1986 and Bill Elder in 1988. Their records as players and administrators are impeccable.
Another favourite son and stalwart, David Brooks, died in 1984.
At the start of the decade, the club had occupied the premises at 30A George Street Burwood for 50 years.