Briars Senior Cricket 2022/23 season
Annual Presentation Night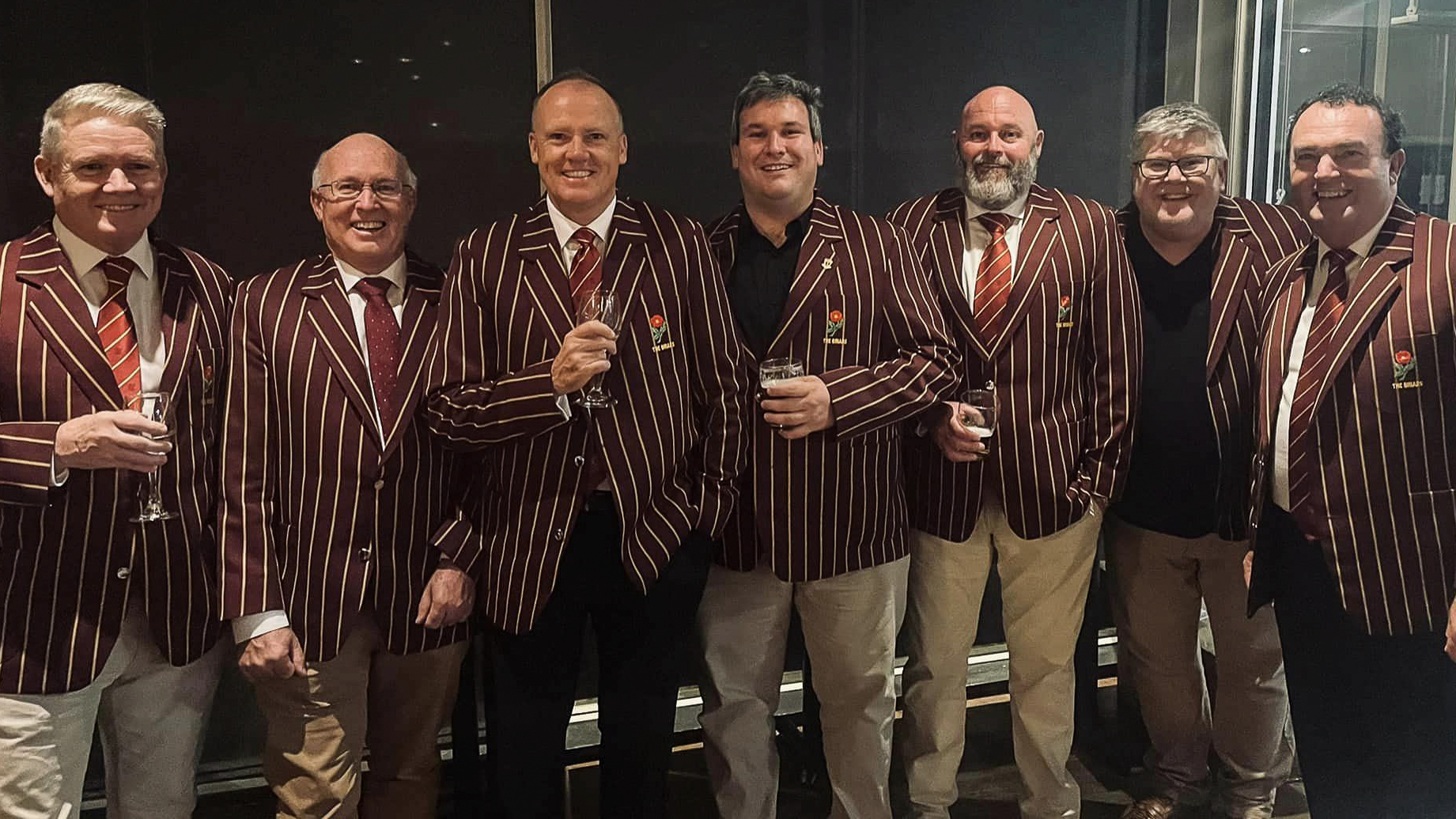 Briars Senior Cricket held their Annual Presentation Night at the Briar Sports on Saturday, 29th April with excellent numbers attending. It was nice to see so many old faces as we celebrated yet another incredible season and some premiership reunions from past years.
Congratulations to all the award winners;
The Dave Walker Trophy for Services to Cricket: Gareth Robson
The Ted Watt Trophy for Best New Talent: Harry McCarthy
Richard Tregeagle Medal(1st grade): Brenton Wright
Gerard Price Medal(2nd grade): Xavier Tregeagle
Anthony Clarke Medal(3rd grade): James Threlkeld
Peter Mansford Medal(4th grade): Amar Warpe
5th grade players player: Mandeep Oberoi
Paul Price Medal(U/24s): Aidan Gardner
Will Hood Medal(Chappelow Cup): Biplav Dutta
Bill Hooker Medal(Masters/Classics): Paul Cramsie
Well done again to everyone on another remarkable season, the final celebration will be held at the Sydney Shires Presentation Night on Friday the 12th May at Dockside Darling Harbour.
Season Summary
So another incredible season concludes and what a season it was;
-Club Champions for a record 11th season in a row
-1st grade Runners up
-2nd grade Undefeated Premiers
-3rd grade Premiers
-4th grade Semi finalists
-5th grade Semi finalists
-U/24s Semi finalists
-Chappelow Cup Semi finalists-Briars Maroon and Briars Brothers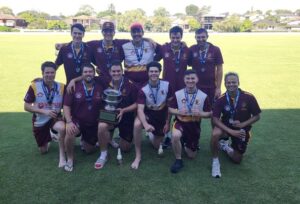 -Won the Turnbull/Richardson Trophy played between Briars and Epping
It was a chaotic and tense Grand Final weekend with nail biters across all 3 grades.
1st Grade
Our 1st grade will obviously be disappointed but they keep making Grand Finals, they won the GF 9 down two years ago and lost on the last ball this season but they maintain an amazing record over the past 10-15 seasons. On day one BJ was masterful taking 5-64 off 32 overs whilst on Sunday the innings from Tom Burt with 55 off 185 balls and Diren Reddy 36no off 169 balls were gutsy to say the least, unfortunately things didn't go our way late on day two and it just wasn't meant to be, but we are extremely proud of Maxy and the whole 1st grade team.The support on the hill from all Briars on Sunday at Mona Park illustrated what an amazing 'CLUB' we have. 90% of the crowd at the game on Sunday arvo were from our club!
2nd Grade
2nd grade fought in true Briars fashion to win 8 down and there were some key highlights;
-Xavier Tregeagle took 4-30(turning the game) when Warringah were 4-108 and made a vital 23 opening the batting- arguably the Player of the match with a match winning double
-Alex Vendrasco took 3-54 and an important 20no to clinch the game
-Damian Price took 2-19 and came in as night watchman on day one and batted the entire first session of day two making a crucial 15 off 92 balls
-Harry Peters came in on day one under immense pressure when we were 3-10 and scored 30
-Brett 'Kanga' Bastow took 1-19 and then took the game away from the Green men with a match winning 51no
-Peter McKell scored a critical 22 off 19 balls to break the game as Warringah were seemingly getting on top
Sensational win by DK and the team to win back to back premierships and undefeated for the entire season.
3rd grade came from the clouds to win the comp with a 52 run first innings win on Sunday. They looked like missing the semis late in the season before stringing together a series of impressive wins to snatch the title. Some of the key highlights from the GF included;
-Fav won the toss and batted
-Gritty knocks from Sanket 27, Fav 30, Alex Peters 38 and Tom Buchanan 15
-Adrian Dawson deservedly won the player of the match with an excellent 42 at a key moment and 2-38 with the ball
-Harry Lee once again bowled superbly taking 3-30
-Jimmy Threlkeld destroyed the Mounties top order with 4-52 when wickets were hard to come by
Congrats again to Fav and the guys on a remarkable turnaround to win the premiership.
Well done again to the whole club on another memorable season! As mentioned previously please save the following dates and there will be more details to come;
-Briars Presentation Night-Saturday the 29th April at the Briars
-Shires Presentation Night Friday the 12th May at Dockside
18th/19th Mar
Congratulations to our 2nd and 3rd Grades who are both premiers! A fantastic achievement by the club which is fully deserved. Our 1st Grade couldn't quite get the win with it coming down to the last ball of the game, this doesn't reflect what a brilliant season they've had and we know they'll bounce back next year!
1st Grade
Unfortunately our 1sts have lost on the final ball of the day, two lbws in the final over saw us dismissed for 153. Sensational gutsy batting from Tom Burt with 55 and Diren Reddy 36no nearly got the guys home. Congrats to Maxy and the team on a fantastic season.
2nd Grade
Our 2nd grade are back to back undefeated premiers after knocking Warringah off today. Chasing 139 the guys passed the total 8 down and the game was called after we reached 8-187. Brett Bastow made a match winning 51no, Alex Vendrasco a handy 20no and Damian Price a crucial 15. Congrats to DK and the whole team…SJ Mayne Trophy winners again!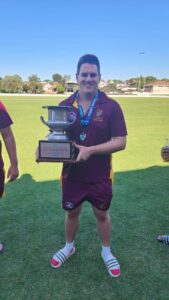 3rd grade are premiers! Defending 199 the boys have dismissed Mounties/South Dist for 147 with Jimmy Threlkeld taking 4-52, Harry Lee 3-30 and Adrian Dawson 2-38, JB Hollander Cup winners! Congrats to Fav and all the boys, huge result!
11th/12th Mar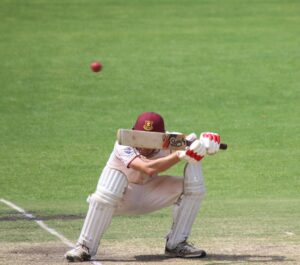 A very good weekend of semi finals cricket has seen Briars' top 3 grades all making it through to next weekends Grand Finals – a fantastic achievement by the club again!
1st Grade
1st grade batted superbly for 160 overs in tough, grinding finals cricket to make 329 against a strong Lane Cove attack. Maxy won the toss at Rothwell Park and batted and after we lost Maxy early Tommy Moffitt with 50 and Tommy Burt 56 put on 115 to set the innings up. Briars lost 3 quick wickets around the 125 mark but then another near century partnership from Jamie McLeod, who made an excellent 74, and Diren Reddy 36 put the guys into a strong position. More stoic resistance from Aiden Gardner with 48 and Matt Roper 18 enabled the guys to reach an unbeatable 329. Because Briars were Minor Premiers a draw was going to be enough for us to progress through to next weekends Grand Final so Lane Cove had to make 330 off the remaining 38 overs and they finished 7-156 with Brenton Wright taking 2-24 and Benny Van 2-49. Congratulations to Maxy and the team, Minor Premiers and a third Grand Final in a row!
2nd Grade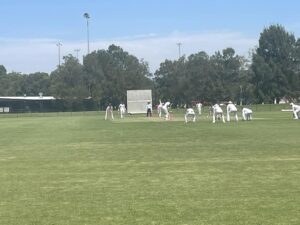 Briars 2nd grade had a comprehensive win also over Lane Cove. Skipper DK sent the Covies in at Ron Routley Oval yesterday and they lost early wickets and never recovered and were dismissed for just 69. Alex Vendrasco was the early destroyer and finished with 4-20, Brett Bastow took 3-16 and Stevey Davis 2-17. In reply our openers got off to a flyer and passed the Covies 1 down before finishing the day 1-153 with Xavier Tregeagle batting very well again finishing on 79no, Declan Kennedy was 34no and Hugh Sims made 29. Lane Cove conceded at the start of day two and our defending premiership winning 2nd grade move through to another Grand Final match up with Warringah.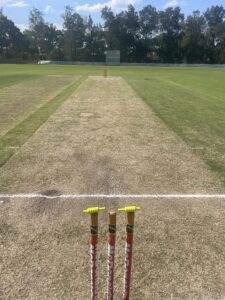 3rd grade had a remarkable win over Strathfield. Batting first at Airey Park yesterday they were in all sorts at 7-31 before a fine 43no from Harry Lee and some handy lower order contributions enabled us to scrape to 113. Strathfield seemed in control at 3-50 before an incredible collapse saw them lose 7 for 8 and we knocked our neighbours over for just 58. Harry Lee took an amazing 4-0, James Threlkeld continued his great form taking 4-18 and Tommy Buchanan took 2-12. We then had to negotiate a second innings today but the batsmen did a super job and we were 3-165 when Strathfield conceded and we progress through to next weekends Grand final. Dougy Cullen made an excellent 80no and Matt Harrington a fine 41
4th Grade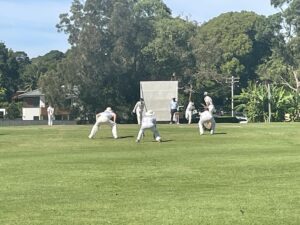 Our 4th grade bowed out today after going down to Warringah. The boys battled hard in the field yesterday eventually dismissing Warringah for 289 with Amar Warpe the pick of the bowlers again with 4-41. They lost early wickets today and never recovered and we were dismissed for 94 with Henry Lester belting 42no…great job Smycko, Lloydy and the boys on a very good season!
The venues for this weekends Grand Finals have now been confirmed and they are as follows;
*1st grade; Briars v Strathfield at George Parry Oval(Mona Park)
*2nd grade; Briars v Warringah at Airey Park
*3rd grade; Briars v Mounties/Southern Districts at Rothwell Park
All games commence at 1030am on both Saturday and Sunday.
4th/5th Mar
What a sensational weekend of Semi Final cricket! Briars have won all 4 grades this weekend with some tough, fighting Briars spirit getting us home.
1st Grade
1st grade had a gutsy 6 run win over a determined Georges River who batted patiently for 92 overs. After starting day two at 3-30 River were 5-131 just before tea but 2 crucial wickets before the break turned the game. Another two wickets just after tea saw River slump to 9-135 but a stubborn 16 run last wicket partnership nearly got them home before Brenton Wright took the final wicket with the score at 151 chasing our 157. Benny Van was superb with 4-49 off 26 overs and BJ delivered again taking 3-30 off 25 overs, all the bowlers did an incredible job. The guys progress through to next weeks semi with a grand final spot up for grabs.
2nd Grade
2nd grade resumed on Sunday at 4-157 after dismissing Lindfield for 43 yesterday and made their way to 7-225 before Lindfield conceded with Karl Vendrasco batting well to be 56no. Great win guys and they too play for a grand final spot next weekend.
3rd Grade
3rd grade also showed true Briars fighting spirit to beat Auburn this weekend. Auburn resumed at 3-62 chasing our 146 but excellent bowling and pressure enabled the guys to roll the Eagles for 119 with Adrian Dawson capping off a great game taking 3-28, James Threlkeld took 3-26 and Phil Maxwell 2-17. We had to negotiate a tricky period after lunch and tea to prevent Auburn from getting back into the game and we were 6-70 in our second innings with Alex Peters making 24 when Auburn conceded. Huge win to Fav and the boys and another big semi next weekend.
4th Grade
4th grade had a comprehensive win over the minor premiers North West Sydney. The Hurricanes resumed Sunday morning at 5-80 chasing our 224 but they were in immmediate trouble losing 3 early wickets and never recovered and were dismissed for 115. Amar Warpe with 5-42 was super and Neeraj Arora capped off a great game taking 3-34. We batted again and were 1-115 with Dougy Cullen on 45no and Alex Burkhart 43no before the game was called. Massive win guys, our 4s just snuck into the semis but they're now just one win from a grand final!
5th grade and Briars Gold, Brothers and Maroon
Briars 5th grade went down to the minor premiers Georges River. River batted first and made 228 and we finished our 40 overs 7-98 with Michael Gordon making 25no. Well done to Clarkie and Charlie who both did a great job again with 5s this season.
In Chappelow Cup today Briars Brothers rolled Auburn Eagles for 75 and won comfortably 2 down whilst Briars Maroon were passed one down after being dismissed for 45 on a wet deck against Auburn Green. Well done to Tabs who did a super job with the Maroon side this season.
Next weekend's semi finals opponents have been determined and this is who we will play;
-1st grade; Briars v Lane Cove at Rothwell Park
-2nd grade; Briars v Lane Cove at Ron Routley Oval
-3rd grade; Briars v Strathfield at TBC
-4th grade; Briars v Warringah at Frank Gray Oval(TBC)
-Chappelow Cup; Briars Brothers v North West Sydney at TBC
25th/26th Feb
A fantastic finish to the regular season this weekend with a clean sweep of Roseville across the top 4 grades and our 5th grade have snuck into the semis with a massive win over Auburn! As a result our 1st grade have finished undefeated minor premiers, 2nd grade undefeated minor premiers, 3rd grade have snuck into the top 3 and 4th grade have maintained 6th spot after they had a brilliant first innings win over the competition leaders. We also increased our lead in the Club Championship and we will celebrated our 11th in a row!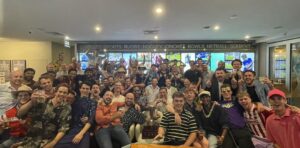 1st Grade
1st grade batted superbly in chase of Roseville's 220 at Roseville Chase. Max Squire made 34, Tim Rose 24, Tom Burt 38 and an unbeaten 6th wicket partnership of 102 by Brenton Wright 63no and Diren Reddy 31no guided the guys home 5 down. Undefeated Minor Premiers!
2nd Grade
2nd grade had a comprehensive first innings win. Defending 9(Dec) 289 the guys rolled the Roses for just 59 with Damian Price taking 5-14, Xavier Tregeagle 2-9 and Brett Bastow 2-14. Undefeated Minor Premiers!
3rd grade had a comfortable but important outright win over the weekend. They declared 2-232 after dismissing Roseville for 106 last week and knocked them over again for 113 with Tom Buchanan taking 3-15, Sunny Khalko 2-7 and Ned Arnold 2-14. The guys grab 3rd spot!
4th Grade
4th grade had a massive first innings win over comp leaders Roseville but fell just short of the outright. Defending 225, they cut through the Roses first innings and dismissed them for just 88 with Greg Metcalfe taking 3-28, Isaac Allen 2-7 and Neeraj Arora 2-11. They had another crack and had them 6-34 but Roseville held on to finish 7-91 in their second innings with Neeraj again doing well taking 3-13. This huge win has enabled 4s to stay in the top 6 which is a fantastic result.
5th grade and Briars Gold, Brothers and Maroon
5th grade had a must win game against Auburn. Auburn batted first and made 124 after being 0-50 at one stage with Mick Towells, Anthony Clarke and John Papathanisiou taking 3 wickets each. They were in early trouble at 3-8 but a gutsy 52no from legend Pete Burkhart and 37 by Mandeep Oberoi got the guys home 4 down in a huge result and clinched a semi finals spot!
After a huge night at the Briars Club on Saturday we had a very good finish to a great weekend with both Briars Maroon and Briars Mustangs winning and picking up bonus points. Briars Maroon dismissed Briars Gold for 69 with Iqbal making 20 for Gold and Zac Thorne taking 3-13 and Peter Warne 3-14 for Maroon. Maroon passed Gold one down with Anton Demark making 36no and they have snared a semi final spot in the process. Briars Mustangs dismissed Auburn for 113 and got the runs 8 down in the 23rd over but have unfortunately narrowly missed out on a semi final spot.
With the Club Championship wrapped up, Briars move onto the qualifying semi finals next weekend and below are the unofficial details for all of the teams;
-1sts; Briars(1st) v Georges River(6th) at Rothwell Park
-2nds; Briars(1st) v Lindfield(6th) at Ron Routley Oval
-3rds; Briars(3rd) v Auburn(4th) at TBC
-4ths; Briars(6th) v North West Sydney(1st) at Kanebridge Oval(TBC)
-5ths; Briars(6th) v Georges River(1st) at TBC
-Chappelow Cup; Briars Brothers(2nd) v Auburn Eagles(7th) at TBC, Briars Maroon(8th) v Auburn Green(1st) at TBC
18th/19th Feb
A solid weekend against Roseville on day one of the final game of the regular season.
1st Grade
1st grade bowled first and toiled hard all day to dismiss Roseville for 220 at Roseville Chase with Aiden Gardner taking 4-55, Benny Van 3-50 and Jack Kovacic 2-21. We had 3 overs to negotiate at the end of the day and we are 0-3 at stumps.
2nd Grade
2nd grade batted well to finish 9-289 at stumps at Rothwell Park. Xavier Tregeagle made 41no, skipper Declan Kennedy 41, Brett Bastow 39, Sanket Karkare 37 and Hugh Sims 30.
3rd Grade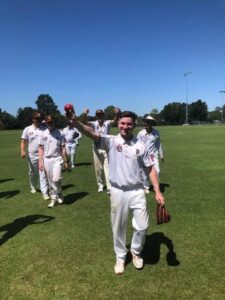 3rd grade have already picked up vital first innings points at Roseville Oval. We sent the Roses in and knocked them over for 106 with James Threlkeld taking 5-33 for the second week in a row and Tom Buchanan took 2-10. In reply our batsmen came out firing and we finished the day 2-232, a lead of 126. Skipper Alex Favotto smashed 99, Alex Burkhart finished 51no and Alex Peters came in with 5 overs to go and made 50no.
4th Grade
4th grade took on competition leaders Roseville and won the toss and batted and did a very good job to make 222 at Ron Routley Oval, skipper Mark Smyck led from the front with a fine 72, opener Neeraj Arora made an excellent 59 and Doug Cullen 32. We had 4 overs at them and have Roseville 1-9 at stumps.
5th grade and Briars Gold, Brothers and Maroon
Briars Gold went down against Mounties in Chappelow Cup today. Chasing 262 the guys finished 8-135 with skipper Cam Durrant making 40 and Muhammad 40no.
Our 5th grade had an important bonus point win over Lane Cove today at Tantallon Oval. Sent in on rain affected deck the guys did well to make 5-149 off a reduced 35 overs with Pete Burkhart making 47no and Anton Demark 41. The guys were always in control with the ball knocking over the Covies for 70 with Jack Benchoam taking 4-17.
This weekends storm washed out Briars Maroon, Gold and Mustang matches whilst Briars Brothers were defeated by Auburn after making 108.
Our Classics(over 50s) team were dismissed for 110 chasing Strathfields 180 today.
11th/12th Feb
The mighty Briars have won 4 from 5 grades today and in the process we have clinched a record breaking 11th consecutive Club Championship with one round remaining
1st Grade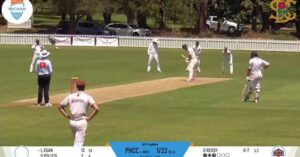 Our 1st grade have wrapped up the Minor Premiership after a comprehensive outright win over Pennant Hills. Defending 4(dec) 274 we dismissed the Pumas for just 53 in their 1st innings with Matt Roper taking 4-3, Jack Kovacic 2-9, Benny Van 2-15 and Brenton Wright 2-22. We enforced the follow on and knocked Penno over a second time for 144 with Aiden Gardner taking 3-38, Brenton Wright 3-50 and Benny Van 3-25
2nd Grade
2nd grade made short work of Pennant Hills today and have also wrapped up the minor premiership, we declared overnight at 8(dec)183 after having dismissed Penno for 82 last week and we knocked over the Pumas in their second innings in just over an hour for just 21 with Alex Vendrasco taking 3-12 and Peter McKell 3-1
3rd Grade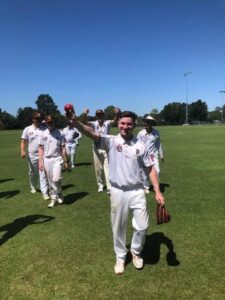 Our 5th placed 3rd grade had a crucial outright win over 6th placed Pennant Hills, chasing 75 we made 112 and then dismissed Penno for 97 in their second innings today, James Threlkeld (see photo) capped off a great game taking 5-33(9-60 in the match) and Ned Arnold 3-17. Chasing 61 for vital outright points the guys cruised home 3 down with skipper Alex Favotto making 24
4th Grade
4th grade went down to Pennant Hills, resuming at 6-206 today Pennant Hills were knocked over for 223 with John Papathanisiou taking 4 wickets. We were well placed at 1-124 but the loss of Doug Cullen who made 71 turned the game and we lost 9-40 and were eventually dismissed for 164. A disappointing loss with a massively important final round for the 4s next week.
5th grade and Briars Gold, Brothers and Maroon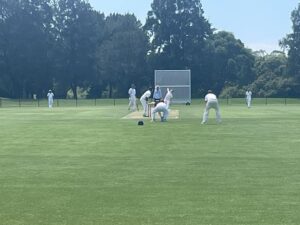 Our 5th grade had a massive bonus point win over 2nd placed Georges River today on the back of a hard hitting Mick Towells. Batting first at Bland Oval we made 4-249 off our 40 overs with Towellsy belting a brutal 137 and he was well supported by Ritesh Desai with 41 and Peter Burkhart with 29no. Our bowlers then demolished Rivers top order having them 5-25 and we eventually rolled Georges River for 127 and as mentioned picking up a vital bonus point in the process. Michael Gordon with 4-35 was the early destroyer with the ball.ad a narrow win over Old Ignatians today, we made 6-163 and then dismissed them for 154 with Joseph Scarcella making 33no and taking 3-12.
Briars Gold had a great win, Briars Mustangs kept their semi final hopes alive and comp leaders Briars Brothers had a narrow loss.
Briars Gold had an impressive win over Strathfield. The Gorillas lost 5-16 after being 5-86 and were dismissed for 102 thanks mainly to Om Magali who took 5-16 including a hat trick and he was well supported by Jake Narayan who took 2-14. The guys cruised to victory 2 down thanks to Anton Demark who made 46no and Chris Smith 37no…great win to Cam and the team!
Briars Mustangs had a tight win over Roseville, chasing 135 the guys got home in the 39th over 5 down whilst comp leaders Briars Brothers had a narrow loss to Pennant Hills, chasing 132 the guys were dismissed for 118. Briars Maroon had a bye this round.
4th/5th Feb
Very good day today against Pennant Hills with 1st grade skipper Max Squire leading from the front for the club with a brilliant 151no.
1st Grade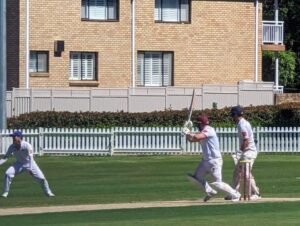 1st grade won the toss at Rothwell Park and batted and as mentioned skipper Max Squire continued his fantastic season(over 500 runs this season) belting a superb 151no, he combined with opener Tom Moffitt to put on an impressive 152 for the opening partnership with Tommy making 72. In a bold move Maxy declared at 4-274 after just 61 overs but it proved to be a master stroke as we have Penno 5-32 at stumps with Benny Van taking 2-15 and Jack Kovacic 2-9.
2nd Grade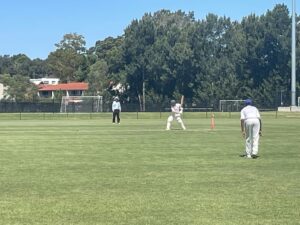 2nd grade lost the toss at Pennant Hills Oval and Penno batted first but were in immediate trouble and never recovered and were dismissed for 82. Damian Price continued his fine form taking 3-19, Alex Vendrasco took 3-26, Brett Bastow 2-11 and Peter McKell 2-11. Despite a couple of tricky moments the guys cruised past the total on the back of a hard hitting Alex Palmer who smashed 86(7x4s, 5x6s) off just 49 balls whilst Kale Barton-Bissaker made an important 36 and we finished day one 8-183.
3rd Grade
Fifth placed 3rd grade had a massive match up with sixth placed Pennant Hills and skipper Alex Favotto sent them in which proved a great move as we knocked the Pumas over for just 75, James Threlkeld took 4-27, Neeraj Arora 3-6 and Paul Panutti 2-16. In reply we had to fight hard and at 7-62 first innings points were in the balance but a quick fire 27 from James Threlkeld and a patient 25 from Matt Turner guided the guys past the total and we finished 9-105 at stumps.
4th Grade
4th grade had to toil hard all day on a docile Ern Holmes Oval deck and after 76 overs Pennant Hills finished the day 6-202 with Dougy Cullen taking 2-43.
5th grade and Briars Gold, Brothers and Maroon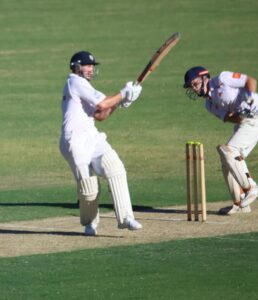 Our 5th grade had a very important win over Epping. Batting first at Rothwell Park we made 7-176 off our 40 overs with Anton Demark making a fine 55 and James Kelly 35. The Bulls were never really in the hunt and finished 7-130 off their 40 overs with Bipla Dutta taking 3-28 and Mandeep Oberoi 2-11.
In Chappelow Cup today comp leaders Briars Brothers had a tight win over Pennant Hills Pumas. We made 9-117 off our 40 overs with skipper Asita Galappatti making a crucial 41 and in reply we were able to knock the Pumas over for 91 with the wickets being shared.
In the local derby Briars Maroon were able to knock off Briars Gold. Batting first Maroon made 6-196 with Narayan making 54, Sanjay 29 and Smith, Desai and Christensen all making 27. Gold were in the hunt but fell short and finished 9-125. For Gold Jack Bailey made 52 and Kyron Thappa 50 and for Maroon Om Mogale took 4-16 and Sanjay 2-28.
Well done also to our Classics(over 50s) side who had a narrow win over Old Ignatians today, we made 6-163 and then dismissed them for 154 with Joseph Scarcella making 33no and taking 3-12.
28th/29th Jan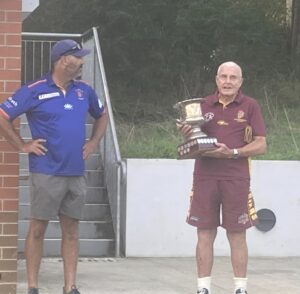 Briars have won the Turnbull/Richardson Trophy against Epping for the 30th time over the past 32 years in a nail biter today. The trophy is determined by the club attaining the most club champs points for the round and 1sts and 3rds drew whilst 2nds won and 4ths lost. The trophy means a lot to both clubs and that was very evident over the games.
1st Grade

In 1sts Epping were dismissed for 208 after they batted on from being 8-203 overnight, Benny Van took 3-30 and BJ 3-55. In reply we finished 9-151 thanks to a superb 71no from Brenton Wright, the photo below was the final ball and a wicket to Epping would've won them the trophy.
2nd Grade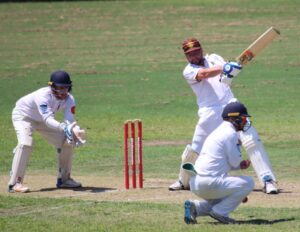 2nd's made 94 and 8(Dec)155 with Karl Vendrasco making 66 and we dismissed Epping for 74 last week and had them 6-112 in their second innings as we had a crack at outright points with Damian Price taking 3-30…so, valuable first innings points for our comp leading 2nds.
3rd Grade
3rds drew after comp leaders Epping batted on for too long making 6(Dec)265 after resuming at 6-225 and in reply we were 4-180 with Henry Abood making a fine 74, Phil Maxwell 50 and Doug Cullen 23no.
4th Grade
4ths were chasing 8(Dec)195 and were dismissed for 143 with Henry Lester making 34.
5th grade and Briars Gold, Brothers and Maroon
Our 5th grade had a great win over Pennant Hills away after rain reduced the match. Batting first we made 8-138 off our 40 overs with Saurabh Ganguly leading the way with 46. The rain hit during Pennos innings and their target was reduced to just 90 and they collapsed from being seemingly in charge at 5-72 to be dismissed for just 78. Hamish Fisher took 3-11 and Mick Towells 3-21.
Briars Maroon had a very good win over Briars Mustangs. Mustangs made 9-129 off their 40 overs and Jake Narayan took 3-16 and Peter Warne 3-30 for Maroon. Chasing 130 Maroon got the runs in the 28th over with Ritesh Desai making 39 and Jeff Burt 20. Briars Gold fought hard but were beaten by Auburn, we restricted the Eagles to 8-155 with Ismail Arshad taking 4-24 and Kyron Thapa 3-24 but the guys were knocked over for 70 in the chase.
Well done to our Chappelow Cup competition leading Briars Brothers team who had a good win yesterday over Auburn. Batting first we made 2-183 off our 40 overs against Auburn with skipper Asita Galappatti belting a brilliant 102no and we then dismissed the Eagles for 172.
21st/22nd Jan
1st Grade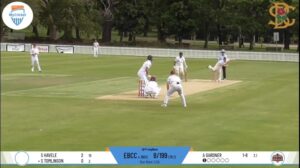 1st grade lost the toss on a belter at Rothwell Park and toiled hard all day and did well to have Epping 8-203 off 80 overs at stumps. Epping were well placed at tea at 1-112 but good bowling from Benny Van 2-26, Matty Roper 2-35 and Brenton Wright 2-67 off 25 overs enabled the guys to restrict the Bulls batting all day. Huge congrats to umpire Ian Pryde (see below) who umpired his 100th Shires game at Rothwell today.
2nd Grade
2nd grade had an almost identical day to last week when they knocked Georges River over for 61 chasing our 95. Fast forward to this week and we lost the toss and were sent in on an ordinary North Epping Oval deck and were dismissed for 94 with Alex Vendrasco top scoring with 21. In reply Epping were 1-44 at one stage before the guys took two key wickets and got on a roll and the Bulls collapsed to be 8-67 and then were dismissed in the second last over of the day for 78. Damian Price with 3-25 and Adrian Dawson 3-9 off 11 overs were the destroyers setting up the valuable first day 6 points and a first innings lead.
3rd Grade
3rd grade lost the toss and spent the day in the field and the top of the table Epping Bulls batted well to finish the day 6-225 on a flat Ron Routley Oval deck. Neeraj Arora took 3-43 and Phil Maxwell 2-53 but a number of costly dropped catches made it a challenging day.
4th Grade
4th grade also lost the toss and did well to restrict Epping to 8(Dec)195 at Epping Oval with Henry Lester taking 2-4, Isaac Allen 2-29 off 15 overs and Jack Benchoam 2-40 also off 15 overs. We are 1-8 in reply at stumps.
5th grade and Briars Gold, Brothers and Maroon
The rain washed out both the 5th grade and Briars Brothers games. Time to ramp up training sessions as we lead into the business end of the season so we look forward to seeing big numbers at training on Wednesday from 430pm at the Briars Nets.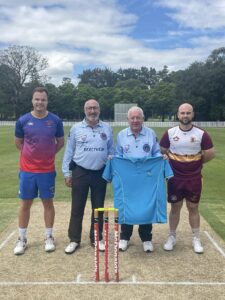 Start of the second half of the season – 14th/15th Jan
1st Grade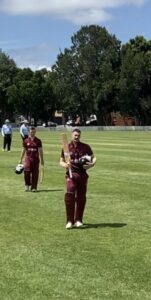 1st grade were away at Bexley Oval without Kova and BJ this game and we won the toss and batted and after a few rain delays the game was reduced to 47 overs per side. Skipper Maxy Squire got the guys off to a great start with an aggressive 74 off 68 balls but the star of the day was Briar debutant Liam Gibson who plundered an incredible 171 not out off just 127 balls. Liam smashed a record breaking 17x6s and 3x4s in an amazing performance and set up a match winning 3 for 308 off our 47 overs whilst Jamie McLeod chipped in with a valuable 37. We were always in control with the ball and every bowler contributed to dismiss them for just 93 and pick up a bonus point in a comprehensive display against the 3rd placed River. Ash Squire took 2-6, Aiden Gardner 2-10, Dizzy Reddy 2-10, Alex Vendrasco 2-21 and Benny Van 2-31
2nd Grade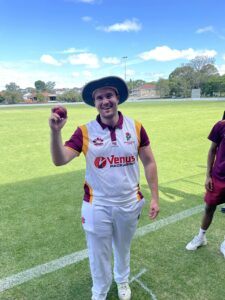 2nd grade had a ridiculous win over the competition leaders and now leapfrog them into first place. We won the toss on a good Rothwell Park deck and batted first, we were 1-52, then 5-53, we recovered slightly to be 5-89 and were then dismissed for 91, Peter McKell made 25 and Xavier Tregeagle 20. In reply Georges River were seemingly cruising at 1-31 before they too suffered a major collapse losing 6-5 to be 7-36. Despite some late order resistance we wrapped up the tail knocking them over for 61, the chief destroyer was Declan Heels who made a triumphant return with an incredible 6-15 off 10 overs and in combination with Stevey Davis with 3-13 off 10 overs the guys pulled off a typically come from behind miraculous Briars victory
3rd Grade
3rd grade fought hard today but went down in a tight one. Batting first we were always struggling but some good late order batting enabled us to reach a competitive 142 with Adrian Dawson making 28 and skipper Harry Lee 27. The guys battled hard with the ball but River were able to graft their way to a win with a couple of overs to spare 6 down.
4th Grade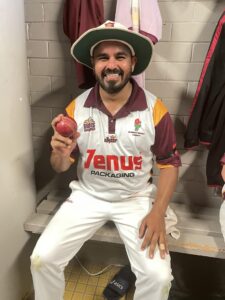 4th grade had a comfortable bonus point win at Ron Routley Oval. We lost the toss and bowled and ripped through the River top order eventually dismissing them for just 69. Neeraj Arora was on fire taking 5-6 off 6 overs, Dougy Cullen took 3-14 and Paul Panutti 2-17. We then cruised to victory 2 down with Anton Demark making 23no and Isaac Allen 17no
5th grade and Briars Gold, Brothers and Maroon
In the lower grade Chappelow Cup today Briars Brothers edged out Briars Gold, Gold made 109 with Desai making 36 and Afnaan 28 but Brothers were too strong passing the total 5 down in the 28th over with Desai taking 3-27.
Briars Maroon went down in a tight one, we dismissed Pennant Hills for 94 with youngster Zac Thorne taking 3-20 including a hat trick, Jeff Burt took 2-16, Biplav Dutta 2-18 and Jake Narayan 2-21 but unfortunately the boys fell 3 runs short in the chase.
Our 5th grade had a disappointing day. Warringah made 5-151 off their 40 overs with Anthony Clarke taking 2-18 and in reply we were dismissed for 69.