Briars Cricket Presentation Night
Excellent numbers attended the Cricket Presentation Night at Briars Sports on Saturday, 15th May. It was an emotional evening celebrating another amazingly successful season and paying tribute to our greatest ever Gerard Price.
Briars Cricket also held 7 milestone Premiership reunions with great numbers attending from the 1980/81 1st grade Premiers (40 years) and the 2010/11 3rd grade Premiership winning team (10 years). It was wonderful to see so many players from the various reunion teams like Bart Pozuelo, Ian Blair, Nick Rojo, Will Hood, Kevin Price plus a host of other Briars legends.
The Ted Watt Trophy for Best New Talent was awarded to Aidan Gardner who had a fantastic 1st season at the club.
The highlight of the evening was the presentation of the Dave Walker Trophy for Services to Cricket, with Steve Schomberg making an emotional speech about Gerard. Dave's wife, Elaine Walker presented the trophy to Gerard's wife Jane and son Damian who accepted it on Gerard's behalf.
Congratulations to all the cricketers, 1st grade Premiers and semi finalists in all grades. A record 9th successive Club Championship is an outstanding achievement.
Following medal winners for season 2020/21;
Richard Tregeagle Medal (1sts)  – Brenton Wright
Gerard Price Medal (2nds) – Brett Bastow
Anthony Clarke Medal (3rds) – Rahul Khandelwal
Peter Mansford Medal (4ths) – Saurabh Ganguly
Paul Price Medal (Under 24s) – Aidan Gardner
Will Hood Medal (5ths) – Anthony Clarke
Chappelow Cup players player – Barrett Engelmann
Bill Hooker Medal (Masters/Classics) – Matt Turner(Masters) & Dave Trewin(Classics)
There's only one Burwood Briars!
25/03/21 – Congratulations to the Briars Senior 1st Grade Cricket Team who WON their Premiership!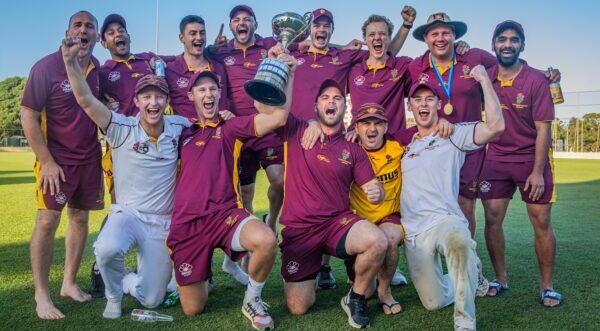 Briars Senior Cricket had a remarkable day of Grand Final cricket last weekend. 1st grade have had an amazing win and 4th grade nearly pulled off a miraculous victory!
1st Grade resumed at 5-103 chasing 138 but were soon in trouble, we were 6-105, 7-114, 8-114 and 9-125 before Sammy Tregeagle stepped up. Jack Kovacic hit a 4 to take it to 9-129 and then in the next over Sammy went 4,4,2 and before we knew it we were 9-139 and amazingly in the lead. We were dismissed for 142 with Tom Moffitt playing a match winning 44. Epping then came out firing and made 141 in quick time with BJ taking 4-23 and Sammy 4-67, this meant we had 51 overs to bat or 137 to win outright. We lost one early wicket but Tommy Burt 52no and Arky Arora 60no guided the guys home comfortably in the 35th over and the RB Clark Trophy returns to the mighty Briars(see the video below)! Jack Kovacic was awarded the Peter Toohey Medal for the player of the match.
Thank you to the umpires Blommy and Simon, the North Sydney Oval groundsmen, scorer Graeme Durrant and to Epping who put up one hell of a fight! Huge congratulations to Maxy and the 1st grade team!
4th grade fought to the finish and should be extremely proud of their performance. Resuming at 0-24 chasing an imposing 250 the guys were in trouble at 6-87 but they never gave up. Shreyas Patel made an excellent 49 but when he was dismissed we were 8-164. James Threlkeld and Greg Metcalfe then put on an incredible 76 before Jimmy was dismissed for a brilliant 73. The guys inched closer but on 245 we lost our final wicket lbw and a 5 run loss. Congratulations to Warringah, it was a game worthy of a Grand Final. Thank you to Paul Roper and Cam Durrant for scoring, thanks to Jeff Wheatley-our groundsman-Rothwell Park was perfect and looked spectacular and thanks to the umpires for doing a great job. Commiserations Lloydy and the 4th grade team, nearly a 6th premiership in 7 years-you have been amazing!
What a season, Club Champions again and 1st grade Premiers-unbelievable!!!
Gerard would be very proudly looking down on what's been achieved this season. Anthony Clarke has done a super job leading the club and everyone has contributed to our incredible success…thank you!!
There's only one Burwood Briars and there only one Gerard Price!!
Support our Briars Cricket Teams in the Grand Finals this Weekend
After the semi finals were completely washed out on the weekend and abruptly ended our 2nd and 3rd grades' seasons we now move onto Grand Final weekend and we have both our 1st and 4th grade teams contesting for premierships across this Saturday and Sunday. The Briars have won 63 Premierships in our history and we will be doing our best to add to that this weekend.
Max Squire's 1st grade team take on Epping for the R B Clark Cup at North Sydney Oval No.2 . We will be playing our eighth 1st grade Grand Final from the past eleven seasons and will be striving to win our sixteenth 1st grade title.
Lloyd Andrew's 4th grade team take on Warringah for the Harry Culbert Trophy at Rothwell Park. We will be competing to win our sixth 4th grade title from the past seven seasons and our twelfth 4th grade title overall.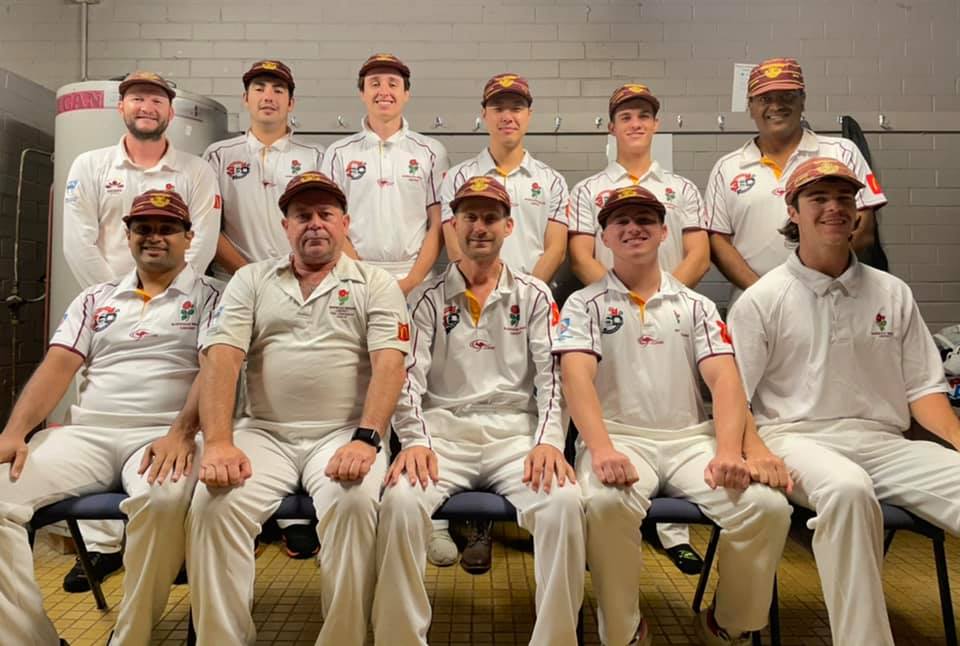 Venues and umpires for this weekends grand final are below.
1st Grade: Epping vs Burwood Briars | Bon Andrew's Oval (North Sydney N02) | Umpires: S. Blomfield & S. Dodwell
4th Grade: Burwood Briars vs Warringah | Rothwell Park | Umpires: S. Pryde & I. Tabrett
Let's make sure the guys have lots of support at training on Thursday night and across both days this weekend!
---
14/03/21 – Cricket Report
All 4 top grades have progressed through from this weekends Qualifying Finals to next weekends Semi Finals where they will be playing for Grand Final positions.
1st grade played really well. We dismissed Lane Cove for 160 with Brenton Wright taking a 3rd five wicket haul against the Covies this season with his 6-45 and Maxy Squire took 4-35. We were 3-81 overnight and somehow managed to play 6 overs of cricket today and were 3-89 when the rain hit again and the match was called with Maxy 33no and Brenton 8no. Rothwell Park was a real stand out today, one of only two grounds in Sydney to get a game of cricket on! 1st grade will now play Roseville at Rothwell next weekend.
2nd grade can move on from yesterday's hiccup, being the highest placed loser means they will play Minor Premiers Lindfield at Lindfield Oval next weekend.
3rd grade were on the verge of victory with Strathfield 9-85 chasing our 138 and despite today's washout they also move through to next weekends semi final and will play Lane Cove at Kingsford Smith Oval.
4th grade were also in control of their game before the weather put paid to things, we were 5-164 at stumps yesterday after youngsters Harry Lee 64no and Xavier Tregeagle 54 set the guys up. 4ths will take on 4th placed Lane Cove at Ron Routley Oval next weekend.
Unfortunately Briars Rivals season ended today when they went down in their Chappelow Cup semi against Mounties Black. Mounties made 7-105 off a reduced 20 overs but the Rivals fell short and were dismissed for 89 with skipper Vivek making 34. Well done to Vivek and the whole team on an excellent season.
Great work on getting all 4 top grades through to the Semi Final stage yet again guys, training at 430pm on Wednesday is even more crucial this week so we will see you then!
---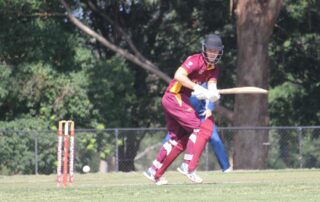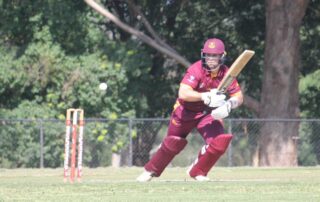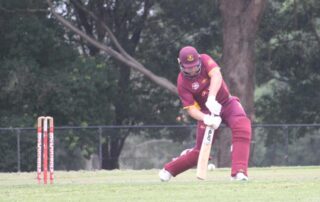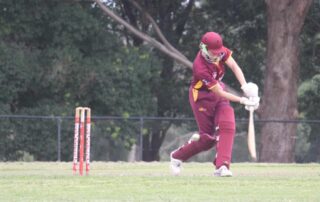 07/03/21 – Cricket Report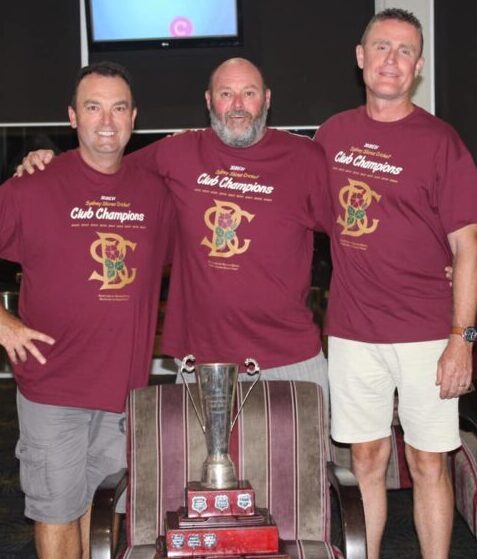 Another good day today for our lower grades with Briars Gold and Briars Rivals confirming semi final spots.
Briars Gold knocked Ryde Hunters Hill over for 109 with Harry Lee taking 3-5, Vrish Pendyala 2-14 and Gordon 2-19. We then cruised home in the 28th over with Glen Workman continuing his good form with 61no and Demark made 27. The guys have now won 5 in a row and have clinched 5th spot.
Briars Maroon finished their season with two wins in a row. We rolled Mounties for 91 with Nagarajah taking 3-17 and Michael Taberner 2-0. We got the runs 7 down with Mick Towells making 23no and Jack Eccleston 20no. Well done on a very good season guys and huge thanks to Tabs and Towellsy for looking after the team. Our lower grades are a great breeding ground for our young talent but it's crucial that we have the senior guys to guide and direct the boys and all our experienced guys do a great job doing that.
Briars Rivals also confirmed their semi final spot with a good win today. We batted first and made 9-149 with Dilip making 50 and we then knocked Pennant Hills over for 82 with Sateeh taking 3 wickets. The guys will finish 7th and will play semis next weekend.
Briars Brothers season finished today, the guys were dismissed for 56 and were passed 2 down. They had a solid season and will finish in 11th spot, well done guys and thank you for all your hard work.
The regular season has ended, next weekend the fun begins with semi final cricket. We know we officially wrapped up a 9th successive Club Champs yesterday, this is how the top 5 clubs finished;
Briars 1083
Lane Cove 815
Epping 802
Lindfield 738
Auburn 735
The Qualifying semi finals will be played over next Saturday and Sunday and it will look something like this;
1st grade; Briars(2nd) v Lane Cove(5th) at Rothwell Park
2nd grade; Briars(2nd) v Epping(5th) at Ron Routley Oval
3rd grade; Briars(4th) v Strathfield(3rd) at Airey Park
4th grade; Briars(1st) v Georges River(6th) at St Lukes Oval
Chappelow Cup
Briars Gold(5th) v Mounties Gold(4th) at Greenway Oval Number 2 on Saturday
Briars Rivals(7th) v Mounties Black(2nd) at Greenway Oval Number 1 on Sunday
To have all 4 top grades in the semi finals for a record breaking 11 seasons in a row is incredible! As we said last night every player in the club has contributed to what has been another amazing season and you should all be very proud but we have lots to achieve over the next few weeks. Last season we were similarly placed before Covid hit so let's hope the next few weeks aren't impacted by any outside influences.
There's a series of photos below from last nights celebrations and yesterday's 1st grade game.
---

Burwood Briars Cricket are Club Champions for the 9th Time in a Row
The photo above was taken after the first of what has become a record breaking 9 Club Championships in a row. Without Gerard the club wouldn't have achieved what we have, he was the best and we miss him every day but I know he'd be looking down very happy tonight!
28/02/21 – Cricket Report
A couple of good wins by our lower grade teams today.
Briars Gold made it 4 wins in a row and confirmed a semi final spot with a bonus point win over Lindfield. We dismissed them for 102 with Pendyala taking 3-16, Benchoam 2-13 and Gordon 2-17. We got the runs 1 down in the 23rd over with Workman making 45, Demark 27no and Naganathan 23no.
Briars Maroon dismissed Pennant Hills for 92 with Towellsy taking 3-29 and Engelmann 2-5 and we got the runs 6 down with Towellsy making 39 and Sims 35no.
Briars Rivals were dismissed for 86 and Mounties passed our score 3 down whilst Briars Brothers were knocked over for 108 and were passed two down by Pennant Hills.
Yesterday we wrapped up the Club Championship and in doing so secured the trophy we value the most -The Dave Tribolet Trophy.
This is how the top 5 clubs are placed with one round to go;
Briars 1006
Lane Cove 815
Epping 708
Lindfield 685
Auburn 675
So with one round remaining this is how the teams are placed;
Shires (top 6 play semis);
1st grade-1st
2nd grade-3rd
3rd grade-5th
4th grade-1st
5th grade-7th
Chappelow Cup(top 8 play semis);
Gold 6th, Rivals 8th, Maroon 10th, Brothers 11th
The top 4 grades take on Roseville next Saturday in a one day match-the final game of the regular season.
Saturday, 6th March is our End of Season Night at the Briars, we will be celebrating a 9th successive Club Champs and the usual fun award winners(ie spit the dummy etc) will be announced that night(more details to come).
---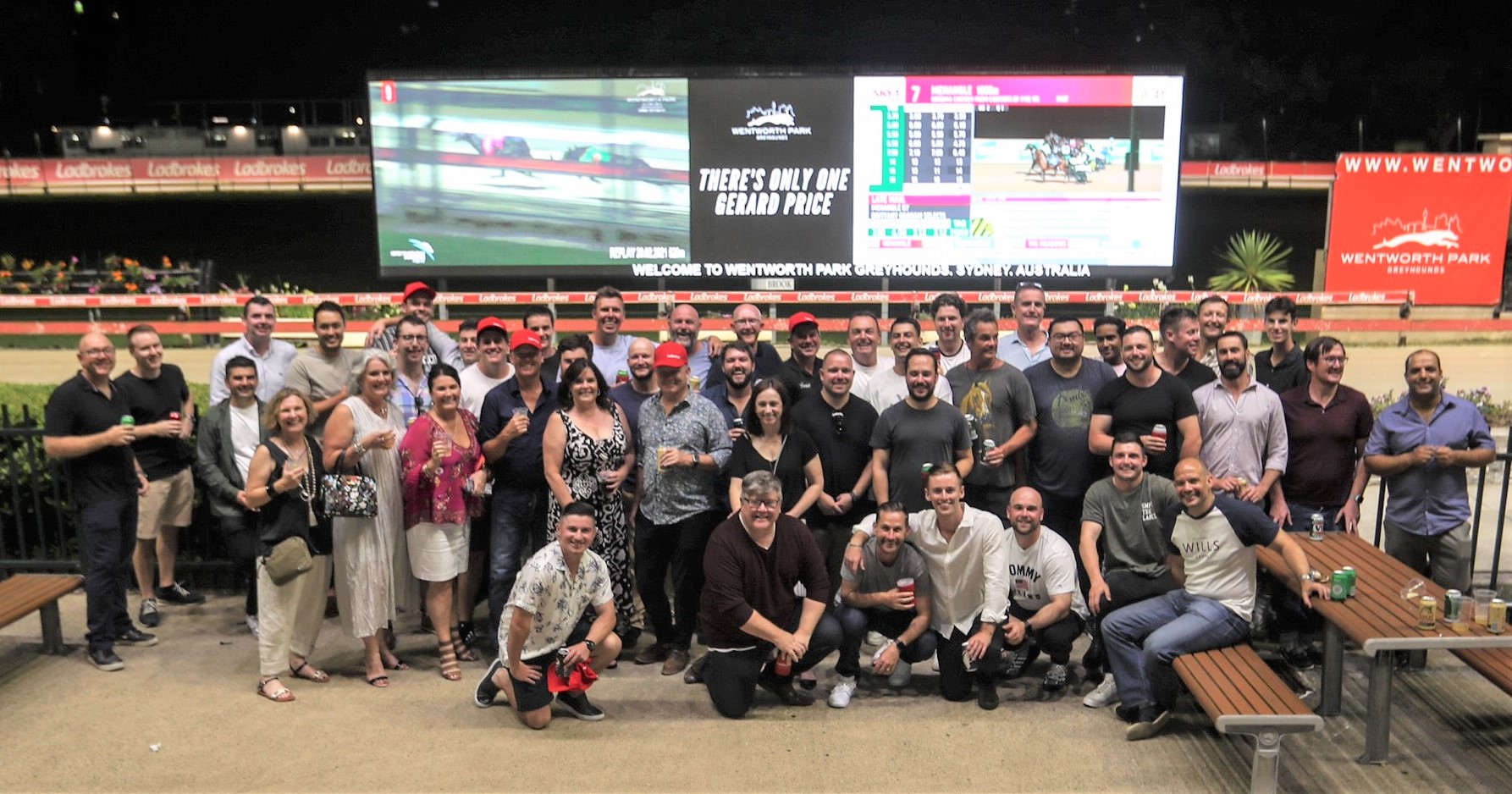 Annual Dogs Night Race-9, at 9.35pm, 'There's only one Gerard Price' Stakes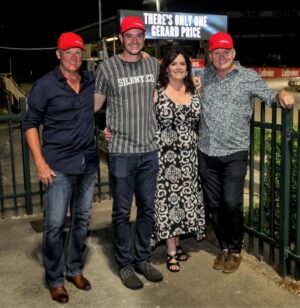 Everyone who attended had a great night at the Doggies on Saturday night after the 1st day cricket against Lane Cove. The Annual Dogs Night raised over $1,000 for the Unicorn Foundation. Well done guys and girls!
20/02/21 – Cricket Report
An incredible days cricket across the 4 grades playing Lane Cove today. We are within sight of a record breaking 9th successive Club Championship after a good day one against the second placed Covies.
1st grade sent 3rd placed Lane Cove in and at 0-30 they looked well placed but the wickets began to tumble and we rolled them for just 65. Brenton Wright took an incredible 5-4 and Jack Kovacic 3-24. We were cruising at 2-49 before stumbling to be 7-57 but Tommy Parton 24no and Diren Reddy 21no steadied the ship and we finished the day 7-103 with a handy 38 run lead.
2nd grade bowled first and knocked over the Covies for 122 with Aidan Gardner taking 4-39, Brett Bastow 2-18 and Phil Maxwell 2-24. We are 4-53 at stumps with Jamie McLeod making 22.
3rd grade dismissed Lane Cove for 128 with Elliot Ralph taking 4-26, Jeremy Wedd 2-15 and Xavier Tregeagle 2-19 and we are 0-7 at stumps.
4th grade have amazingly defeated 3rd placed Lane Cove outright in a day. We dismissed them for just 21 at Longueville Oval with Greg Metcalfe taking 6-3 and Liam Penwill 2-6, we then made 84 and rolled them again for just 55 with Metcalfe taking 4-14 and 10-17 for the match and James Threlkeld
took 4-16. Huge 10 points!! See the boys singing the song below.
5th grade went down to North West Sydney. We finished 9-75 chasing 150.
Huge Under 24s semi at North Epping Oval tomorrow, let's get down and support the boys as they take on Epping.
Great day guys!
---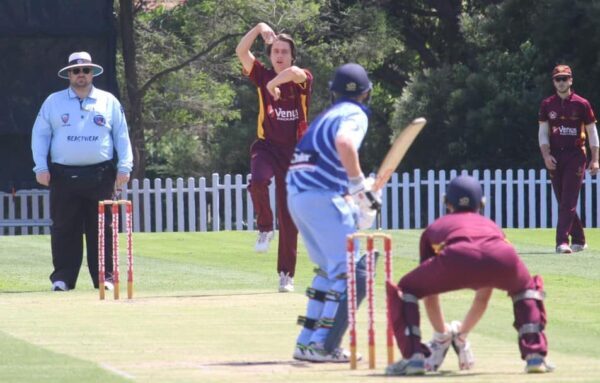 14/02/21 – Cricket Report
It was another memorable weekend for the mighty Briars.
All 4 teams played yesterday and we battled constant showers to have two wins and two draws when there were only a handful of games played in all Shires and Grade cricket across Sydney. This is the advantage of having two of the best grounds (Rothwell Park and Ron Routley Oval) and groundsmen in the comp, full credit also to Strathfield for getting on at their two grounds yesterday.e
The umpires at all 4 grounds (even Blommy) should also be congratulated for wanting to get the games on.
Today our Under 24s pulled of one of their best wins 9 down in a thriller. Well done and thank you also to the Georges Rivers groundsman at Bexley Oval-the ground was in great condition.
In the lower grades today Briars Gold had another excellent win, we restricted Lane Cove to 9-104 with Vrish taking 3-33 and Gordon 2-17 and we got the runs 7 down with Denmark making 41. Briars Maroon made 9-155 off their 40 overs but were passed 8 down by Auburn with Virat Bishnoi bowling well taking 4-26. In the local derby Briars Rivals restricted Briars Brothers to 9-97 with Jai taking 3-14 and Sreejith 3-18 and Rivals snuck home 7 down with Jai making 43.
Our Masters (over 40s) team also had a good win today, we made 6-175 off our 40 overs and we dismissed Balmain/Souths for 107.
The trophy we always value the most is the Dave Tribolet Club Championship Trophy, we are chasing a record 9th successive title and this is how the top 5 clubs are placed with 2 rounds remaining;
Briars 916
Lane Cove 761
Epping 678
Warringah 621
Lindfield 604
Reminders, training from 430pm at the Briars Nets on Wednesday and the Annual Dogs Night is on again next Saturday night at Wentworth Park after day one against Lane Cove so book your spot with Cormac.
13/02/21 – Cricket Report
Really good day against our neighbours Strathfield. The day was punctuated by constant showers and lots of disruptions yet we've been able to grab two crucial wins and two draws on a day where there were very few Shires games played in any grade.
1st grade declared overnight at 6-271 and rain interruptions meant Strathfield had 66 overs to chase down the target but they were never in the hunt and time beat us as the Gorillas finished 7-175 with the game ending in a draw. The guys did well managing a wet ball and outfield and a Rothwell Park track that proved to be too good, Brenton Wright was once again the pick of the bowlers taking 4-32 off 21 overs.
2nd grade were only left with 41 overs to dismiss Strathfield after declaring at 9-219 last week. Unfortunately a wet patch on the deck at Airey Park and constant rain delays made the task just a little too difficult and a draw was the outcome with the Gorillas finishing 6-141. Damian Price 2-34 and Darren Leichsenring 2-31 bowled well.
3rd grade pulled off a comprehensive, incredibly important outright victory over last years premiers. We resumed at 7-120 today after dismissing the Gorillas for 80 last week and Sanket Karkare continued his great game finishing 63no and we declared at 9-178. Strathfield struggled again in their second innings and were rolled for just 63, Rahul Khandelwal was the destroyer taking 4-19 (including 3 wickets in an over), Jeremy Wedd took 3-9 and Atul Mahajan 2-18. The win catapults the 3s from 7th to 3rd spot with two games remaining before the semis.
4th grade had the type of win that GP would've loved, typical gutsy, hard fought Briars late order resistance guiding the guys home. We resumed at 6-84 chasing 130 against last years premiers and were soon 7-88 but a superb 90no from the experienced Saurabh Ganguly
and a crucial 18no from young James Threlkeld got the boys home 7 down, the two added an unbeaten 58 for the 8th wicket and 4th grade remain on top of the comp.
Well done today guys, invaluable Club Champs points from our 3rd and 4th grades!
Our 5th grade were washed out up at Pennant Hills today.
Let's all get down and support our Under 24s tomorrow as they take on Georges River at Bexley Oval in their Qualifying Semi Final.
Good luck to Briars Maroon, Gold, Brothers and Rivals who also play tomorrow.
---
06/02/21 – Cricket Report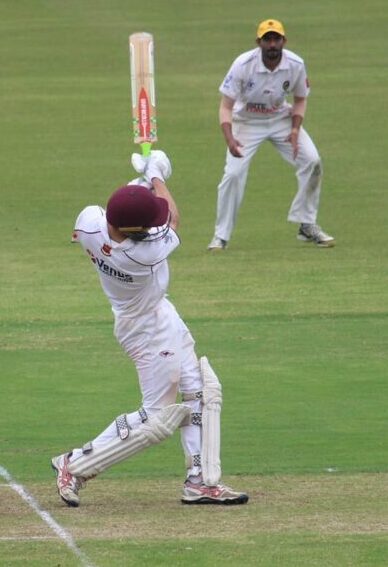 A good day one against Strathfield on a rain interrupted afternoon.
1st Grade were sent in at Rothwell Park and did well to post 6-271 after rain reduced the day to 75 overs. Tommy Moffitt made 63, Nick Govers 58, Tommy Parton 43no, Tommy Burt 41no, Brenton Wright 27 and Arky Arora 20.
2nd Grade were also sent in and made 9(dec)219, Skipper Brad Sculley made 37, Karl Vendrasco 32 and pretty much everyone else made double figures. Strathfield are 0-12 at stumps.
3rd Grade needed to have a good day and they did. We sent the Gorillas in and dismissed them for 80, Paul Panutti took 3-12, Atul Mahajan 3-35 , Sanket Karkare 2-4 and Rahul 2-16. The guys then raced to 7-120 at stumps with Alex Peters making 25 and Sanket is 23no..
4th Grade are delicately poised after day one. We bowled first and dismissed Strathfield for 130, Penwill took 3-32, Tregeagle 2-16, James Threlkeld 2-18 and Jason Tran 2–19. We are 6-84 in reply with Saurabh Ganguly 49no.
Great to see the Sydney Sixers win tonight too…GP would've been happy with today!
5th Grade had an impressive win over 5th placed Epping. Batting first the guys made 9-151 off their 50 overs with Pat Fraser making 30 and John Papathanasiou 23no, we then dismissed the Bulls for 107 with Fraser capping off a good game taking 3-10 and the veteran Anthony Clarke took 3-18.
Briars Gold knocked off 3rd placed Mounties Gold, we rolled them for just 60 with Biplav Dutta
taking 3-3, skipper Smyck 2-15 and Jack Benchoam 2-24. The guys had to fight hard but got home 8 down after being 4-2 with Sanjan Naganathan finishing 34no, Gordon made 12, Smycko 12 and Cameron Durrant 10.
Briars Maroon had a comfortable win. We knocked over Strathfield for just 70 with Virat Bishnoi taking 4-20 and Mick Towells 3-20, the guys cruised to victory 1 down and picked up a bonus point with Tom Pooley finishing 34no.
In the other two games Briars Brothers had a comfortable win over Lane Cove, we dismissed them for 132 and got the runs 4 down whilst
Briars Rivals went down by 86 runs against North West Sydney.
The photos below are from 1st grade's very good batting performance against Strathfield at Rothwell Park yesterday thanks to Graeme Durrant.
Two reminders, we are doing a sausage sizzle and end of game speeches for all grades back at Rothwell Park after next weeks Strathfield game on Saturday and we will see you all at training on Wednesday from 4.30pm.
---
31/01/21 – Cricket Report
Thankfully the regular season resumes after the bye this weekend and Round 11 is a two day game against Strathfield for the top 4 grades.
1st grade return to Rothwell Park and 3rd grade are at Ron Routley Oval whilst 2nds and 4ths are away.
In the lower grades on Sunday 5th grade play Epping away whilst Briars Maroon play Strathfield, Briars Gold play Mounties, Briars Brothers play Lane Cove and Briars Rivals play North West Sydney.
Our Classics(over 50s)side play the Cricketers Club of NSW away on Sunday.
As we know GP did a lot of work with the Sydney Sixers over the years and there are a number of family and friends going out on Saturday night to watch the Final at the SCG and cheer the Sixers on and we thank the team at Cricket NSW.
Good luck to all teams this weekend!
---
23/01/21 – Cricket Report
The 1st-4th grade had a bye this week.
In the lower grades 5th grade made 7-128 off their 40 overs against Pennant Hills, Niraj Arora made 35, Zac Mackenzie 30 and Brett Howle 29. We then dismissed the Pumas for 96 and Pat Fraser(below) was the star taking 5-21 and three catches, Zac took 2-17 and Clarkey 2-22.
Briars Gold were chasing Mounties 152, Vrish Pendyala took 4-17 and Michael Franklin 2-25 . The boys fought hard but fell short finishing 9-121 with Glenn Workman making 24, Biplav Dutta 23no and Cam Durrant 16.
Briars Rivals restricted Lane Cove to 5-147 off their 40 overs and got the runs 8 down with two balls to spare with Vijay making 48. Briars Maroon were chasing Mounties 6-266 and were 7-50 before finishing 8-150 with Jack Eccleston not out on 43. Briars Brothers were dismissed for 117 and fought hard but Mounties passed them 7 down.
---
18/01/21 – Cricket Report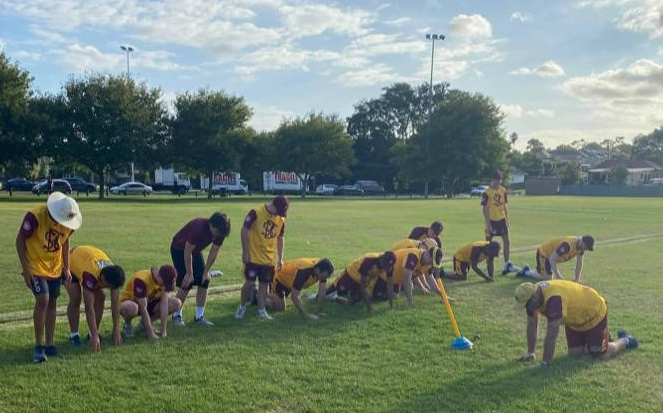 Photo taken at training on Wednesday night: when a classic catch turns into a disastrous drop of the wedding ring……. 
The top 4 grades have a bye, so we will have the next two Saturday's off which will come in handy for the guys carrying injuries.
Training each Wednesday is now even more important over the next few Wednesday's so let's make sure we continue the momentum and the great numbers at training this Wednesday from 4.30pm at the Briars Nets and then pop back to the club afterwards and take advantage of the $16 meal deal.
Our lower grades(5th grade and Chappelow Cup) all play over the next two weekends and our Under 24s play their final round game Sunday week against Georges River.
Below is an update on the all important Club Championship with 4 rounds to go and also below are some photos from 1st grade's win over Pennant Hills at Penno on Saturday thanks again to Graeme Durrant.
CLUB CHAMPS TABLE
Burwood Briars 858
Lane Cove 683
Epping Bulls 566
Warringah 549
Auburn 531
Lindfield 474
Strathfield 385
North West Sydney 380
Roseville 360
Georges River 343
Mounties/Southern Dist. 264
Balmain South Sydney 119
Pennant Hills 52
---
09/01/21 – Cricket Report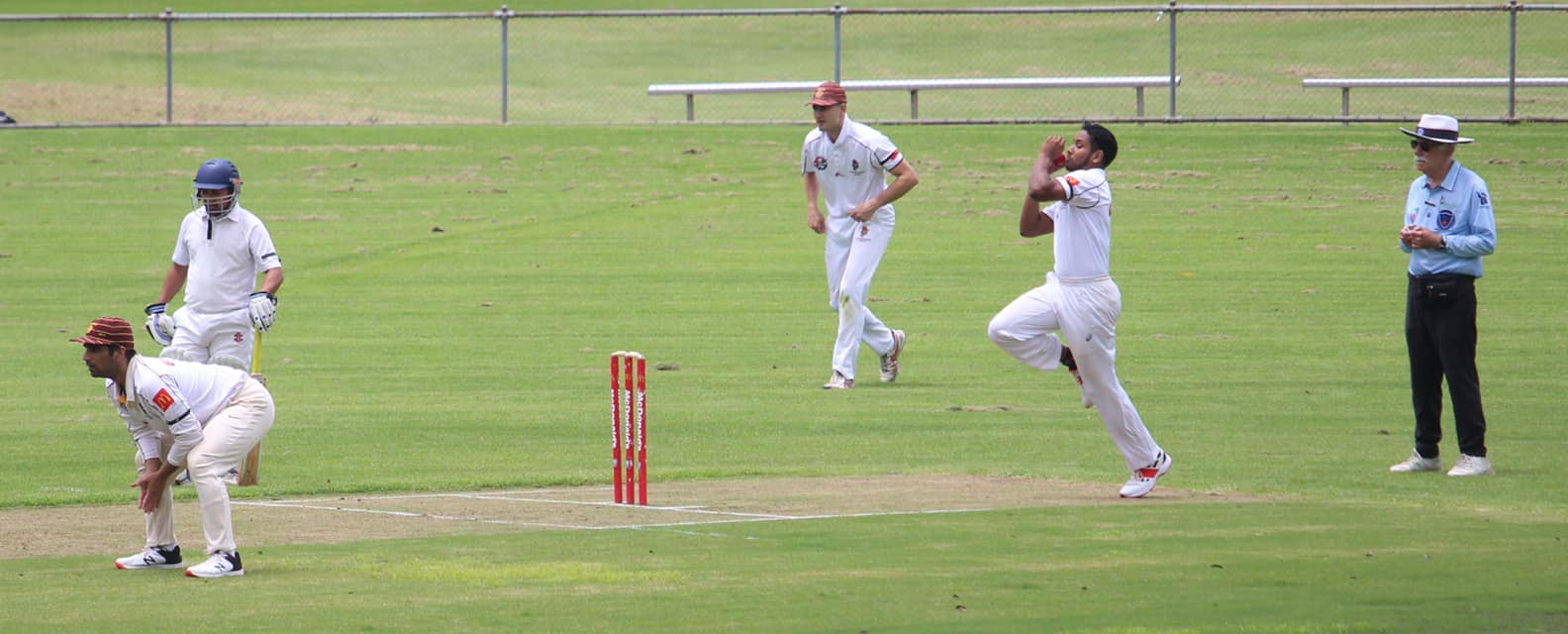 A fantastic day one against Pennant Hills today with 3 wins already in the top 3 grades and our 4th grade are on the verge of victory as well.
All 4 grades wore black arm bands and observed one minutes silence in honour of Gerard at the start of play and we thank Pennant Hills and the umpires for supporting this.
1st grade won the toss up at Pennant Hills Oval and sent the Pumas in. The guys bowled pretty well to knock them over for 103 with Brenton Wright taking 5-36, Jack Kovacic 2-16 and Ash Squire 2-32. We had 34 overs to get the 6 points on day one and achieved that in the second last over to finish 5-105. Ash Squire made 40 and Tom Burt 23no.
2nd grade sent the Pumas in at the first game back at Rothwell Park and they were 1-50 before losing 8-14 to be 9-64 and they were eventually dismissed for 85, Matty Roper was the destroyer taking 6-25. We were in a little trouble at 5-48 but a hard hitting 52 from Brett Bastow and 33 from Harry Peters enabled us to finish 7-167 at stumps.
3rd grade dominated their game. We knocked the Pumas over for just 65 with Rahul Khandelwal
taking 3-15, Elliot Ralph 3-14 and Shreyas Patel
3-11. The Briars then smashed 4 declared for 153 with Alex Favotto
retiring hurt on 49 and Alex Peters making 39. We then had 2 overs at them and Penno are 1-2 at stumps.
4th grade lost the toss at Ron Routley Oval and Penno crawled to 97 all out in the 58 over with Jason Tran taking 3-18, Xavier Tregeagle 2-13 and Greg Metcalfe 2-16. We had just 15 overs to bat at the end of the day and we have raced to 3-87 at stumps with Scotty Brennan belting 51 including 4x6s.
A great day guys, GP would be very happy!
---
Round 6 – Report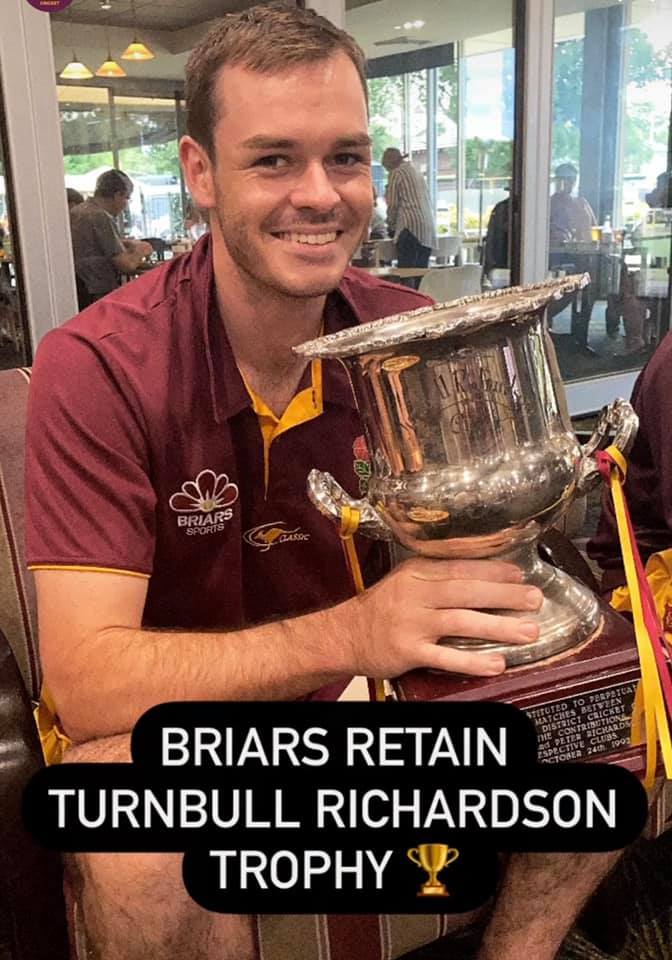 The Briars have retained the Turnbull / Richardson Trophy for the 25th time over the past 28 years, winning 3 from 4 grades against Epping over the past weekend. The Trophy was officially presented to the Briars back at the Club and we thank the Epping guys for coming back for a few post game drinks.
1st grade sent Epping in and had them 6-37 before what would end up being a match winning 69 run partnership enabled them to post 129 on the board with Brenton Wright taking 3-17, Sam Tregeagle 2-11 and Ryan Corns 2-26. We were 1-37 before slumping to 5-43 and were eventually dismissed for 98, Damian Price showed courage to bat after a hospital visit due to an earlier finger injury sustained in the field and BJ top scored with 35. The Bulls deservedly secure top spot on the ladder in 1s for now and we are 2nd.
2nd grade toiled hard to dismiss Epping for 204 after they were 3-125 with Brett Bastow taking 4-41 and Matt Roper 2-52. For the second week in a row the guys batted extremely well to chase down the total in the 44th over 5 down with Karl Vendrasco making 62, Matty Roper 52, Tom Parton 31 and Jamie McLeod 25. 2s remain in second place on the ladder.
3rd grade had a nail biting win which, as it's turned out, determined the winner of this years Turnbull/Richardson Trophy. Epping battled to make 115 with Jeremy Wedd taking 3-34 and Shreyas Patel 2-31. We were 2-70 at one stage before wickets tumbled and we needed our final pair to put on 5 runs for victory, Jake Wright top scored with 40 and we won 9 down.
4th grade continued their undefeated start to the season with a very good run chase to win. Epping batted well to make 194 with Greg Metcalfe taking 4-31 and James Threlkeld 2-35. We achieved the target 5 down with Cormac O'Connor belting 51, Doug Cullen 45, Saurabh Ganguly 37 and skipper Lloyd Andrews 23no. 4s remain in 2nd spot.
Briars Rivals also had a good win today, we dismissed Auburn for 135 with Jai taking 3-21 and we got the runs 4 down with Karthick finishing 43no.
Our Under 24s kicked their season off in style with a comprehensive win over Balmain/Souths at Ron Routley Oval. Batting first we got off to a flyer with McLeod making 35 and Favotto 20 before skipper Diren Reddy combined with Matty Roper to put on 163 enabling the team to make an imposing 8-289 off 50 overs. Dizzy was out for a run a ball but heartbreaking 99, Matty made 62 and Phil Maxwell chipped in with 26.
The guys toiled hard with the ball to restrict the Bunnies to 5-180 before an incredible Xavier Tregeagle(photo below) hat trick closed the game out and they finished 9-184 off 50 overs, Xavier took 4-22, Threlkeld 2-14 and Maxwell 2-36. Great start to the season boys!
5th grade made 7-136 against Strathfield with Khadse making 26 and Smith 24, we then dismissed the Gorillas for just 77 with Fraser taking 3-21 and Penwill 2-20 and picked up a bonus point.
Briars Brothers and Briars Maroon fought out a close battle today, Brothers chased down Maroons total of 86 losing 8 wickets in a nail biter.
The Club Champs for the top 5 clubs looks like this after 6 Rounds;
1. Briars 533
2. Lane Cove 483
3. Epping 428
4. Warringah 421
5. Lindfield 395
---
Round 5 – Report
A fantastic day  clean sweeping the Balmain/Souths Bunnies in all 4 grades in searing temperatures.
1st Grade were sent in and were 4-27 before an incredible 222 run partnership between Nick Govers and Brenton Wright. Govers(below) plundered 122 with 8x4s and 6x6s whilst BJ finished 104no with 8x4s and 1×6. We finished 5-266 off our 50 overs and then knocked the Bunnies over for 178 with BJ taking 3-26, Ryan Corns 3-25 and Damian Price 2-29. Five wins from five for 1s this season.
2nd Grade restricted the Bunnies to 209 with Phil Maxwell taking 3-36,Kanga 2-18 and Matt Roper 2-33. We had to work hard to get the runs 6 down with Roper making 40, Tom Parton 37 and Harry Peters 33.
3rd Grade rolled the Bunnies for 69 with Rahul taking 3-17, Harry Lee 2-11 and Jeremy Wedd 2-16 and we got the runs 2 down with Tom Jackson making 29 and Jake Wright 23no and picked up a bonus point.
4th Grade also knocked the Bunnies over cheaply for 68 with Aidan Gardiner taking 4-9, Greg Metcalfe 2-10 and Jason Tran 2-16 and we got the runs 4 down with Scott Brennan making 26 and we also picked up a bonus point.
Below is an update on the top 5 for Club Champs after 5 Rounds;
Briars 437
Lane Cove 393
Epping 364
Lindfield 347
Warringah 336
In today's lower grade games the guys had to endure tough 40+ temperatures so well done to all teams. 5th grade made 9-115 with Jackson Kent finishing 31no in their chase of North Wests 172. Briars Gold restricted Briars Rivals to 119 with Aidan Gardiner taking 4-6 and Gold passed Rivals 7 down with skipper Mark Smyck making 31. Briars Maroon fell well short of North Wests 9-215 after Jake Narayan took 4-35 and Briars Brothers were passed 7 down by Penno after finishing 9-132 with Thappa making 49.
Huge game next weekend against Epping with a top of the table 1st grade clash and we battle for the Turnbull/Richardson Trophy across the top 4 grades.
Well done on a very good weekend guys and we will see you all at training on Wednesday from 430pm at the Briars Nets.