25/11/20 – Squash Report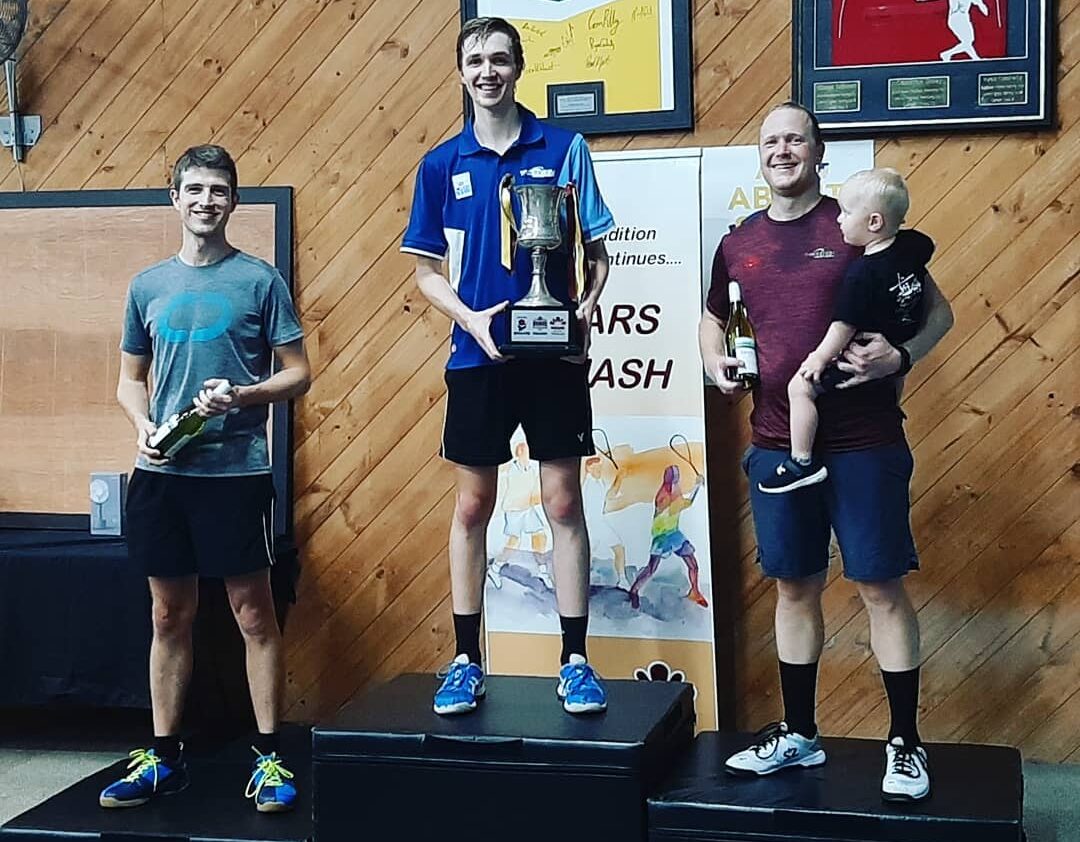 Spring Pennant Grand finals are on this Thursday at Briars @ Thornleigh. We are grateful to be able to play a season without disruption to the comp due to Covid.
Briars 1 Div 1 Finished 4th
Briars 2 Div 1 Finished 5th
Briars 3 Div 2 Finished 4th by 1 point
Briars 4 Div 3 have come 1st and play the final vs North Sydney Leagues
Briars 5 Div 4 Came 2nd and are playing North Sydney Leagues in the final
Briars 6 Div 4 Finished 3rd Place
Briars 7 Div 5 Came 2nd and will play Norths 3 in the final
Briars 8 Div 6 Finished 5th place
Briars 9 Div 6 Finished 1st and will play Mac Uni in the final
Briars 10 Div 6 Finished 6th Place
Briars 11 Div 8 Finished 6th Place
Briars 12 Div 8 Finished 4th Place
Briars 13 Div 8 Came 2nd and will play Norths in the Final
Briars 14 Div 8 Came 5th Place
Junior Grand finals on the 28th Nov
Premier grade Briar Mitch Black vs James Sommer from Nth Syd boys
Div 1 Briars 2 vs Briars 1
Div 2 Barker 2 vs Falcon 1
Div 3 Knox 3 vs Briars 4
Div 4 Knox 4 vs Knox 5 (Briars 3 finished 4th)
Div 5 Knox 6 vs Barker 4 (Briars 5 finished 4th)
Div 6 Knox 8 vs Barker 5  (Briars 6 finished 4th)
Div 7 KNox 10 vs Knox 11
Div 8 Knox 12 vs St Pius 7
Div 9 St Pius vs Knox 14 (Briars 7 finished 3rd)
We have 82 entries so far for the club championships on Saturday the 5th December with only 8 more spots available and 5 days till entries close.
---
24/09/20 – Squash Pennant Report
Briars Junior Term 3 Internal Tournament
Div 1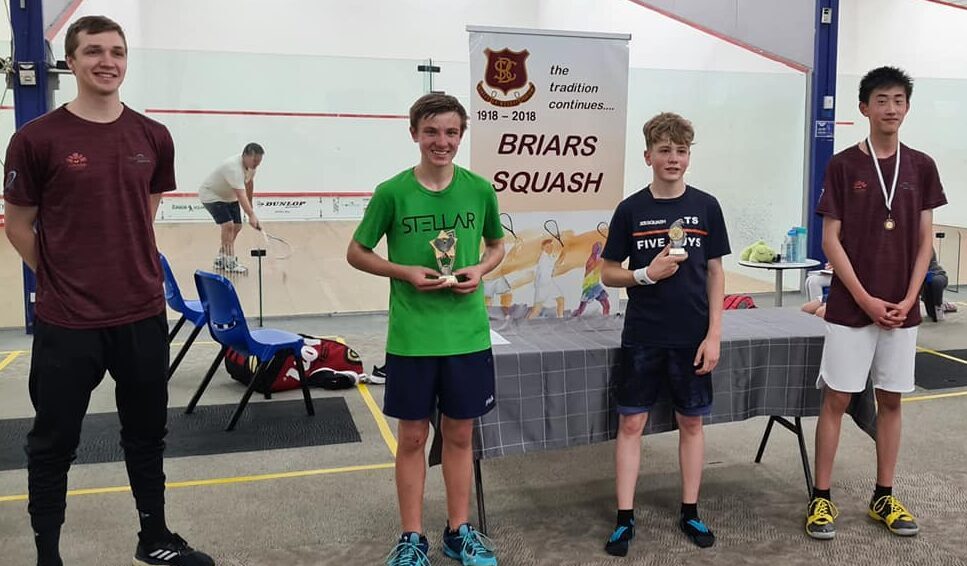 W – James Slade
R/Up – Thomas Scott
3rd – Kaz Fuse
Div 2

W – Jackson Wylie
R/Up – Tom SIno
3rd – Vish
Div 3
W – Jingni Liao
R/Up – Kitty Parbhoo
3rd – Michelle Lam
Div 4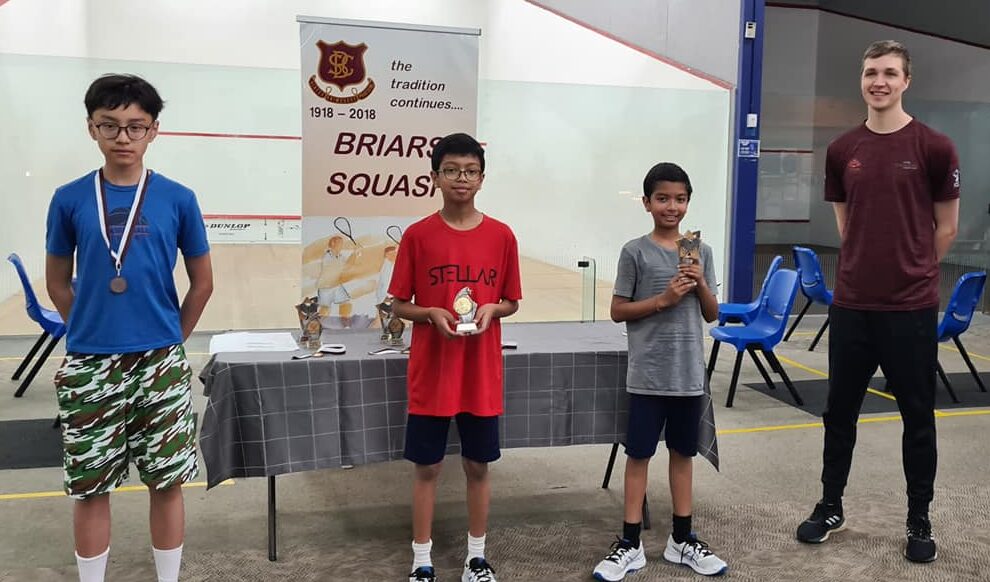 W – Darvan Thavendran
R/Up Darvin Thavendran
3rd – Andy Lee
Most Improved – Jingni Liao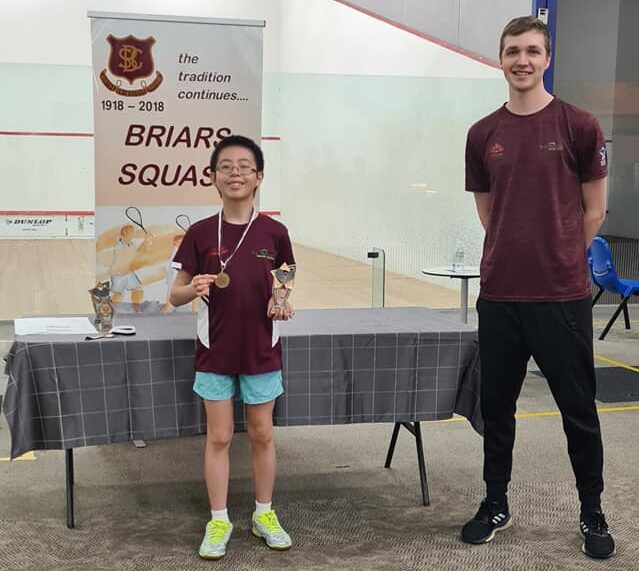 ---
For the full senior squash pennant results;
---
17/09/20 – Squash Pennant Report
As the Squash pennants reach round 5 of the comp, some of our teams are topping the ladders in their respective divisions. Division ladders are as follows;
North Region (3 person teams)
Briars 11 – 6th
Briars 12 – 4th
Briars 13 – 2nd
Briars 14 – 3rd
North Region (4 person teams)
Div 06
Briars 08 – 5th
Briars 09 – 1st
Briars 10 – 6th
Div 05
Div 04
Briars 05 – 2nd
Briars 06 – 3rd
Div 03
Div 02
Div 01
Briars 01 – 4th
Briars 02- 2nd
---
Junior Internal Comp Results
Finals week this week for our mini-season of junior pennant. Match-ups are as follows;
Div 01
GF – James Slade vs Thomas Scott
3/4 Playoff – Kazuyuki Fuee vs Maja Maziuk
5/6 Playoff – Kasper Cheung vs Zac Giuffre
Div 02
GF – Jackson Wylie vs Tom Sinodinos
3/4 Playoff – Vishva Senewivathne vs Nathan Calder
5/6 Playoff – Mattia Candotti vs Thomas Sellars
Div 03
GF – Kitty Parbhoo vs Jingni Liao
Div 04
GF – Darvin Thavendran vs TBA
3/4 Playoff – Nandika Shah vs TBA
5/6 Playoff – Harry Whitehouse vs TBA
For full results
---
20/08/20 – Squash Report
Results from the Squash NSW junior 3 week competition
Div 1
Thomas Scott (Briars)
James Slade (Briars)
Elliot Inman (St Pius)
Div 2
Zac Giuffre (Briars)
Hunter Helen-Ford (Knox)
Kasper Cheung (Briars)
Div 3
Harry Clayton (St Pius)
Gilbert Davie (St Pius)
Niall Boomla (North Sydney boys High)
Div 4
Nathan Calder (Briars)
Mattia Candotti (Briars)
Tom Sellers (Briars)
Div 5
Amelia Scott (Briars)
Vivaans Mudaliar (Briars)
Darcy Keenlyside (St Pius)
Div 6
Darvan Thavendran (Briars)
Armaan Samra (North Sydney Boys high)
Ben Buono (St Pius)
1st Round Results for senior comp are below
Div 1
Briars 1 Won against Mac Uni 18 – 10
Briars 2 Won against MAASH 19 – 9
Div 2
Briars 3 Won against MAASH 16 – 12
Div 3
Briars 4 Lost to North Manly 10 – 18
Div 4
Brias 5 Won against Mac Uni Vipers 24 – 4
Briars 6 Won against MAASH 18 – 10
Div 5
Briars 7 Won against MAASH 24 – 4
Div 7
Briars 8 Lost to MAASH 11 – 17
Briars 9 Def Briars 10 – 21 – 7
Div 8
Briars 11 won against Briars 12 – 13 – 8
Briars 13 Lost to Briars 14 – 7 – 15
For full results
04/08/20 – Squash Report
Results of our 22 Briars in a 3 week NSW Squash Competition
Div 6
Mila Maziuk lost to Ben Buono of St Pius X in 2-3 with a marathon 20 – 22 in the last game
Darvan Thavendran Won his first ever comp game 3-0 to Jonah Gonazales of St Pius X
Darvin Thavendran Won 3-0 to Zhan Lou
Div 5
Tom Sellers won is first game 3 – 0 vs Oliver Mullen of St Pius X
Amelia Scott won her game 3 – 0 vs Dylan moore of St Pius X
Vivaans Mudaliar won his first game 3 – 0 vs peter Yasterboff of St Pius X
Div 4
Mattia Candotti Won 3 – 0 vs Stanley Chung of North Sydney Boys
Nathan Calder won 3 – 0 vs Thomas Wilkins of St Pius X
Colum Ryan won 3 -0 vs Will Oner of St Pius X
Tom Sellers won 3 – 0 vs Ashley Johnson of St Pius X
Div 3
Tom Sinodinos lost 3 – 0 to James Hunt St Pius X
Kirthana Parbhoo lost 2 – 3 to Niall Boomla of North Sydney Boys
Maeghan Wang lost 1 – 3 to Harry Clayton of St Pius X
Div 2
Zac Giuffre won 3 – 0 to Luke Marinaki from Knox Grammar
Vishva Senewivathne lost to fellow Briar Kasper Cheung 0 – 3
Jackson Wiley won 3 – 0 vs Bradley Boyd from Knox Grammar
Div 1
Thomas Scott won 3- 0 to Kazuyuki Fuse from Knox Grammar
James Slade won 3 – 0 to Rishi Deshpande Knox Grammar
William Slade and Maja Maziuk battle out Wednesday night as a catch up to see who progresses
Senior Pennant Competition 
Commences week of the 10th of August. Teams and draws out next week
13/02/20 – Squash Report
Last weekend Rohan headed up to the Gold Coast to compete in the Australian National Championships. He went into the tournament ranked as a number three seed.
Rohan's first match was against a promising young junior who he managed to beat in straight games. Following was a really tough quarter final which ended in a tight 3-1 win, taking him through to the semis where he lost after a long battle to a tough opponent in 4 games.
Overall Rohan finished 3rd! Rohan was extremely happy with this result and would like to note that competing in the Australian Championships would not have been possible without the support of Briars @ Thornleigh Squash.
5/12/19 – Squash Report
And so Squash ended 2019 off with a banger of a Briars club champs at Thornleigh Squash. A big thanks to everyone who participated and attended the event! We congratulate all the winners:
Majart:
1. Rohan Toole
2. Rex Thomas
3. Jack Styles
Div 3:
1. Pete Sinodinos
2. Vijay Tumuluri
3. Paul Taylor
Div 6:
1. Mic Mac
2. Ros Lloyd
3. Ignatius Willathgamuwa
Junior A:
1. Peter Koch
2. Matt Nealon
3. Zach Guiffre
Div 1:
1. James Herbert
2. Alex Leonardi
3. Kieran Ryan
Div 4:
1. Michael Odewahn-Oxley
2. Travis Ireland
3. Sam Smith
Div 7:
1. Zohaib Khan
2. Brian Sandercock
3. Nicki Bispham
Junior B:
1. Jackson Wylie
2. Colum Ryan
3. Mattia Candotti
Div 2:
1. Hyunku (Kei) Kang
2. Darren Gardner
3. Mark Trotman
Div 5:
1. Warren Schaffer
2. Michael Youseff
3. Fiona Hennesey
Junior Open:
1. Dan Godwin
2. Sam Smith
3. Mark Woo
Junior C:
1. Riley Khan
2. Ross
3. Mila Maziuk
Junior Open:
1. Dan Godwin
2. Sam Smith
3. Mark Woo
Junior A:
1. Peter Koch
2. Matt Nealon
3. Zach Guiffre
Junior B:
1. Jackson Wylie
2. Colum Ryan
3. Mattia Candotti
Spring Pennant Finals Results:
Div 02: Briars 01 – 4th
Div 03: Briars 02 – 3rd
Div 05: Briars 03 – 3rd
Div 05: Briars 04 – 1st
Div 06: Briars 05 – 5th
Div 09: Briars 06 – Tied 1st
Div 09: Briars 07 – Tied 1st
Div 11: Briars 08 – 3rd
Div 12: Briars 09 – 8th
Div 12: Briars 10 – 2nd
21/11/19 – Squash Report
Congratulations to all the Briars@Thornleigh teams in the semis and finals coming up in the next two weeks. Teams playing in the knockout semis this week will be:
Briars 02 in Division 3
Briars 03 take on Briars 04 in a local derby in Division 5
Briars 07 in Division 9
Briars 08 in Division 11
Good luck to all our teams vying for a spot on grand final night next week.
Go Briars!!!
09/11/19 – Squash Report
Briars spirit was running high at Junior Pennant on Saturday with the kids sporting their new personalised Briars sporting shirts. It was the battle of the Briars in division 1 with both teams facing off against each other. There were some great results for underdogs Briars 02 taking the day over Briars 01 (currently sitting at second on the leaderboard). All the matches were played in great spirit and we look forward to seeing how the teams progress throughout the season.
In adult pennant Briars 03 & 04 are hot on the tail of North Sydney for top spot with only 3 points gap between Briars 04 and the current no.1's. Also, congratulations to Briars 06, 08 & 10 currently doing a great job of defending their pole positions in their respective divisions.
AJC day 3 results:
Marcus Wang: 3/0 Win in the Grand Final
Thomas Wang: 3/0 win (now in 5/6 playoff)
Kieran Willathgamua: 3/0 loss (now in 3/4 playoff)
Meaghan Wang: 3/0 loss (now playing for 19th)
Tara Black: 3/0 win (now playing for 18th place)
Maja Mazuik: 3/0 win (Won Grand Final 3-0)
Kaz Fuse: 3/0 loss (now playing in 7/8 playoff)
James Slade: 3/0 loss (now playing in 7/8 playoff)
Will Slade: 3/0 win (now playing in 13/14 playoff)
Mitch Black: 3/0 win (now playing in 9/10 playoff)
Kevin Willathgamua: 3/0 loss (now in 23/24 playoff)
Dan Godwin: 3/1 loss (now in 15/16 playoff)
Big congratulations to Maja and Marcus, both making it to the grand finals of their respective age groups. Best of luck we are all behind you two. Also congrats to Mitch, James, Kaz, Kieran and Thomas, for all playing for the chance to finish in the top 10 of their age groups. Also well done to Tara and Maeghan on their also match today with some amazing rallies and shots but it was Tara who took out the win today
For full results visit; https://www.sportyhq.com/tournament/view/Australian-Junior-Championships-2019-Platinum
Cheeky Monkey Junior Open Squash Event
What a huge day! The 21st of September saw the Cheeky Monkey Junior Open hosted at Briars' home squash courts, Thornleigh. 32 young juniors competed in the one day event, the largest turn-out to a Cheeky Monkey event ever, and 17 of those players representing Briars! In the B & C grades Briars took out all podium positions. In the A grade local superstar Maja Maziuk took out 3rd place and Dan Godwin took out the Open grade without dropping any set all day. All in all it was an awesome positive experience for Briars squash and we look forward to hosting more events like these in future!
In the pennant Briars are currently occupying the top spots in Div 05, 09 and 12. With 8 rounds still to come there is still plenty of time for Briars to upset the ladders and work their way to pole position. Good luck and good squash Briars!
Summer Season of Junior Pennants starts 19th October
Junior Pennant is back! Entries are now open for the summer season which is set to start up on the 19th of October. Along with the new season we are also doing new Briars shirts for our Juniors with their nickname to be printed on the back. For more information contact Thornleigh Squash at squashthornleigh@gmail.com
This week also saw the sad farewell to Briars' head squash coach, Ali Jafari. Ali came here mid last year from England and since his arrival Briars Junior Squash has had rapid growth in both numbers and in the standard of their playing ability. To celebrate his time with Briars he hosted a 2 hour junior clinic for the club with 25+ keen kids taking part in some hard training and some fun & games. We are sad to see him go but we hope to have him back soon. We wish him the best of luck in his future endeavours both on and off the court.
Briars 06 & Briars 07 Top their divisions
A great turnout at Junior Training this week! This week Briars' young prodigies were working on the angles of attack and the use of the crosscourt in the game of Squash. This session also saw Briars top Juniors Dan Godwin and Mitchell Black take on the role of coaches and put the other youngsters through their paces!
In other news, congratulations to Briars 06 and Briars 10 in topping their respective division ladders in the pennant external competition!
Last weeks Pennant Matches
Results from last weeks pennant matches are in! Another huge night of squash with 4 of our Briars teams taking out top spot in their respective divisions. Also congratulations to Briars own squash club manager Anthony Thomas and his team currently placed at 2nd in the Premier League.
Junior Pennant Competition starts back next term with another exciting season of squash in the making. Briars' finest are keen to get into some matches after attending the widely successful junior training classes during the weeks leading up to the season. We wish all of our Juniors the best of luck in the upcoming season!
Kick-off of Spring Pennants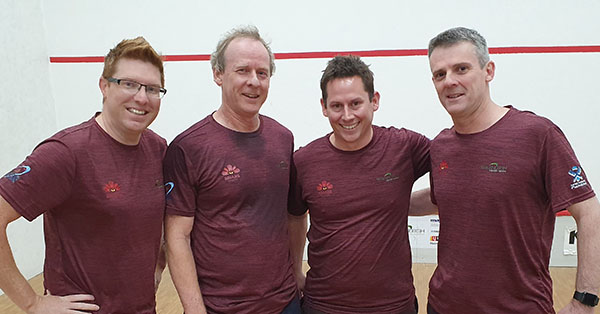 Last Thursday saw the kick-off of the Spring Pennant for 2019 as well as the debut of the new and improved Briars squash shirts! With 10 Briars teams across 12 divisions we are in store for a huge season of squash, spirit and fun! After the first round we have multiple teams sitting in the top few positions in their division ladders and after an awesome performance Briars 04 is sitting in 1st place in Div 05. We wish the Briars the best of luck in the coming season and we want to thank all our sponsors for helping us launch the new Briars apparel!
NSW State Junior Titles
Huge success for Briars junior squash this week as 8 of our juniors were selected to represent NSW at the upcoming national championships in Davenport, Tasmania at the end of this year. We wish to congratulate them on their selection and we wish them the best of luck in their future matches!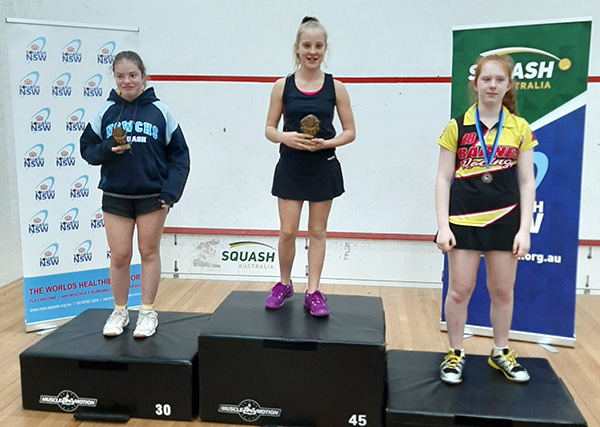 Last weekend saw Thornleigh Squash Centre host the NSW State Junior Titles, one of the biggest junior events in NSW each year. Over the 3 days a large number of Briars juniors took part and we saw some great squash from our kids.On the whole the event was a resounding success as well as excellent feedback on the introduction of a doubles tournament. We look forward to seeing all of our juniors compete again in the upcoming Briars one day tournament on the 27th of July.
Combined High Schools Competition
Over the last week of school term the Combined High Schools (CHS) played off to select which junior athletes would be representing NSW in the trans-tasman test in New Zealand in August.
Briars top Juniors Maja Maziuk and Haani Qureshi were selected for the test team after gruelling through some tough matches with Briars, Mark Woo narrowly missing out on making the team. We wish them the best of luck in their upcoming matches!
Briars @ Thornleigh pennant results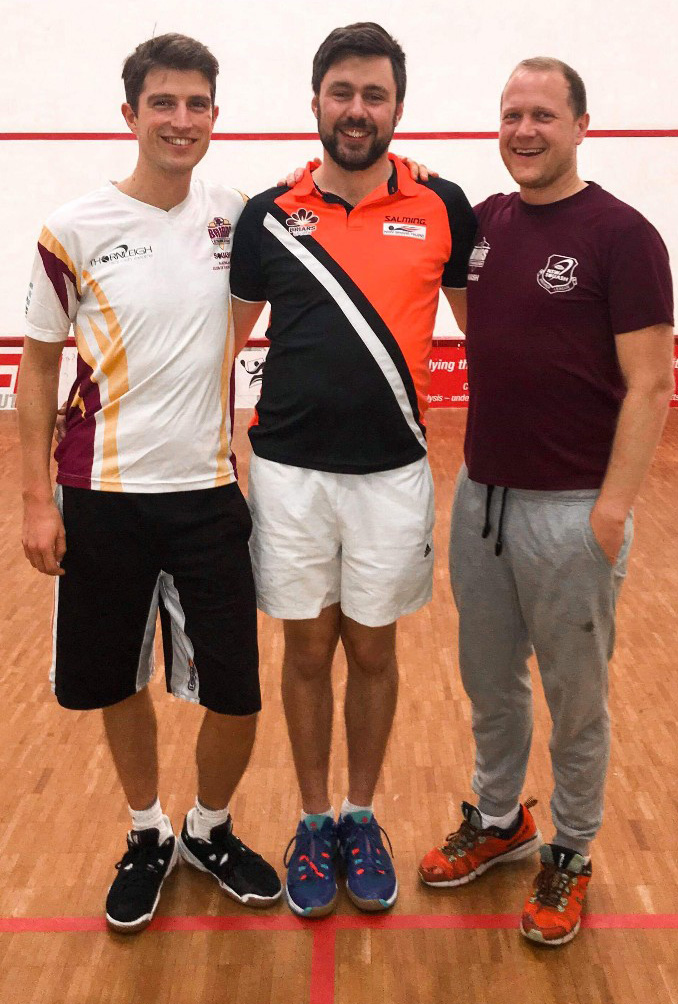 We also wish to congratulate the following teams on reaching the Semi Finals in their respective divisions:
Sydney 1 – Briars 01 & Briars 02 (Briars 01 going through to the grand final)
Div 01 – Briars 03
Div 02 – Briars 04 (through to the grand final)
Div 03 – Briars 05
Div 09 – Briars 09 (through to the grand final)
Div 10 – Briars 10
Div 12 – Briars 12

World Doubles
Playing on home soil in the Gold Coast, Australia took home the majority of the medals in the World Doubles Championships, with 3 all-Australian finals, guaranteeing medals for the home team. Australia ended up bringing home 7 medals in total, with veterans Cameron Pilley and Donna Lobban taking home 2 golds each. Briars own Mick 'Alphabet' Jaroszewicz was fortunate enough to attend the event and sneak a few pictures with the Australian team!
NSW Junior State Titles
In early July Thornleigh Squash Centre, home of Briars Squash, will be hosting the NSW Junior State Titles. This event will see Juniors from all around the country travel to the centre in what will be some spectacular squash. This is a must play event for any Briars Juniors looking to improve their ranking/participate in a high level tournament!
Autumn Pennant Semi Finalists
Congratulations to all the Briars teams who have made it through to the semi finals in the Autumn Pennant. An astonishing 7 out of 12 teams have made it through to the semis. We wish you good luck in your upcoming matches!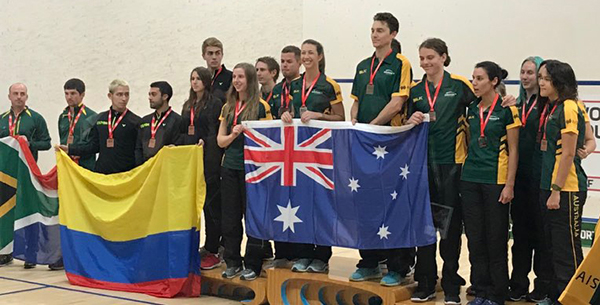 Semi-Finalists decided on day three of the World Doubles Squash Championships on the Gold Coast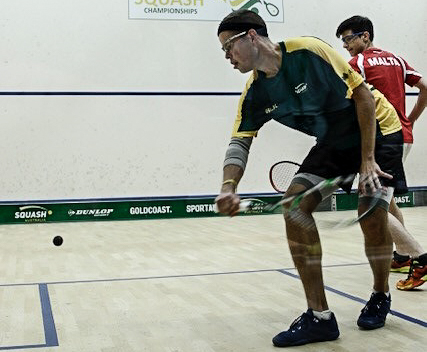 Zac Alexander (AUS) in mixed doubles match against Malta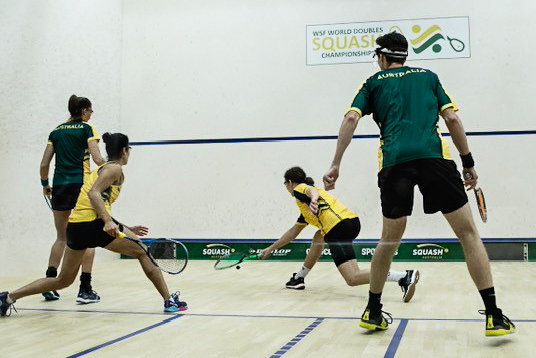 Australia v Australia in mixed doubles (Pilley/Lobban v Eyles/Nunn)
Photo credit – Craig Stewart (Brisbane Sports Photography)
Host nation Australia will head into the semi-finals of the World Doubles Squash Championships at the Carrara Squash Centre as gold medal favourites after the top seeds charged into all semi-finals.
In the mixed doubles competition, reigning Commonwealth Games Gold Medallists Donna Lobban and Cameron Pilley cruised through the pool phase to finish undefeated.
The cousins from Yamba in New South Wales defeated fellow Australian's Christine Nunn and Ethan Eyles 11-4 11-5 to top pool A.  Nunn and Eyles, who are teaming for the first time, will also progress to the semi-finals where they'll face a tough matchup against Colombian pairing Catalina Pelaez and Matias Knudsen.
The Colombian's have impressed throughout the tournament, finishing undefeated at the top of pool B.  17-year-old South Australian Alex Haydon will also feature in the semi-finals alongside partner Zac Alexander, with the duo finishing second in the pool (only losing to Colombia).
Pilley is also chasing gold in the men's draw, where he is again yet to be beaten, this time with partner Ryan Cuskelly.  The pair from New South Wales, who are defending champions in the event, defeated Australian siblings Nick and Tom Calvert to lock up top spot in Pool A.
"It was a pretty good match, it was tight early but as experienced campaigners we managed to get our way through and we're happy to be through to the semis," Cuskelly said.
The Calvert brothers faced a morning matchup against South Africa's Jean-Pierre Brits and Christo Potgieter which effectively decided the other semi-finalist from the pool.  The gritty South African's prevailed 11-1 11-4 to finish second behind Pilley and Cuskelly.  The South African's have self-funded their trip and have provided some of the most entertaining matches of the tournament so far.
Brits and Potgieter will have to overcome the second seed Australian pairing of Zac Alexander and Rex Hedrick, who also cruised through their pool undefeated.  Colombian pair Andres Herrera and Juan Vargas will also progress to the semi-finals.
"We are excited to have made the semis and it was great to play against Zac (Alexander) and Rex (Hedrick) and I think we played ok," said Vargas.
"Tomorrow will be a good match against Pilley and Cuskelly and we'll give it everything."
In the women's round robin competition, Australia is on track to claim both gold and silver with Donna Lobban/Christine Nunn (top) and Sarah Cardwell/Jessica Turnbull (second) topping the pool.  Colombian sisters Maria and Laura Tovar continue to sit in the bronze medal position and will face the second placed Australians on day four.
THURSDAY SCHEDULE 
Women's Doubles (Round-robin)
5pm Sarah Cardwell/Jessica Turnbull (AUS) v Laura Tovar/Maria Tovar (COL)
5.45pm Taylor Flavell/Selena Shaikh (AUS) v Jemyca Aribado/Aysah Dalida (PHI)
Men's Doubles (semi-finals)
6.30pm Cameron Pilley/Ryan Cuskelly (AUS) v Andres Herrera/Juan Camilo Vargas (COL)
7.15pm Zac Alexander/Rex Hedrick (AUS) v Jean-Pierre Brits/Christo Potgieter (RSA)
Mixed Doubles (semi-finals)
8pm Donna Lobban/Cameron Pilley (AUS) v Zac Alexander/Alex Haydon (AUS)
8.45pm Catalina Pelaez/Matias Knudsen (COL) v Christine Nunn/Ethan Eyles (AUS)
FULL RESULTS AND FIXTURES : https://clublocker.com/tournaments/10353
---
Doubles Tournament, Junior Coaching Clinic & Exhibition match
Saturday, 8th June 2019
The results for the Doubles Tournament were;
Division 1 winners: Rex Thomas & Marty Kimpton
Division 2 Winners: Trace Johnson & Peter Sinodinos
Division 3 Winners: Denis Jamieson & Annie Gleason
16 Briars Juniors and 2 non Briars attended the Junior Coaching clinic, where they were taught valuble squash skills from Cameron Pilley & Ryan Cuskelly who have both represented Australia.
It was a great night with 50 people watching the awesome display,