Briars Senior Cricket – 2019/2020 Season Reports
14/03/20 – The mighty Briars have played tough, smart finals cricket across the weekend in the Qualifying Semi Finals to win all 4 grades and progress through to next weekends semi finals, playing for grand final positions!
1st grade once again demolished Warringahs batting line up, we rolled them for just 35 in round 9 and today the guys did it again knocking the Green men over for just 54 with Stevey Davis(below) the destroyer leading the way taking 5-21, Jack Kovacic did the early damage yesterday taking 3-4, Brenton Wright(below) 1-9 off 11 overs and Diren Reddy took 1-18 off 10 overs. We lost a couple of early wickets but BJ 26 and Tommy Parton 20 steadied the ship and passed the target comfortably 3 down before we lost a few late wickets to finish 7-89 when the rain returned and Warringah conceded, Jack Thomas remained 22no. The guys play Lane Cove away next weekend.
2nd grade were ruthless today in hammering Georges River. The River were seemingly building a competitive total at 6-126 before losing 4-1 to be dismissed for 127, Darren Leichsenring took 4-29, Atul  Atul Mahajan 2-52 and James Webb took the final 3 wickets in one over to finish with 3-21. Jamie McLeod 66no and Tom Moffitt 39 erased the target in quick fire fashion and Matt Roper chimed in with a solid 22no to ensure a comprehensive win 1 down. The guys will be at home next weekend against Warringah.
3rd grade resumed at 7-107 and were 9-151 before a remarkable last wicket partnership of 84 between Damian Price 45 and Elliot Ralph 36no(below) somehow enabled the guys to make 235. Earlier Rahul Khandelwal made 36, Patel 28 Jake Balnave 22. The bowlers were clinical in dismissing Auburn for just 72, Damian Price and Elliott Ralph completed great games with 3 wickets each and Phil Maxwell took 2. Like 2s the guys will be playing Warringah at home next weekend.
4th grade pretty much mirrored 3rd grades performance, we resumed at 5-106 and were 9-156 before a final wicket partnership of 75 between Paul Pannuti 47(below)and Sam Tregeagle 23no enabled the guys to reach 231, earlier Sanket Karkare made 39 and  Lloyd Andrews and Greg Metcalfe both made 20. Georges River were never really in the hunt losing regular wickets before being dismissed for 101 with Samuel Tregeagle capping off an excellent game taking 4 wickets and James Threlkeld and Greg Metcalfe took 2 each. As with 2s and 3s the guys also take on Warringah at home next weekend.
So another incredible performance from the club, another Club Champs and 4 teams competing for Grand Final positions, 1sts against Lane Cove and 2nds, 3rds and 4ths against Warringah-well done to everyone!
07/03/20 – The mighty Briars have clinched a record breaking 8th successive Dave Tribolet Trophy today winning the Sydney Shires Club Championship!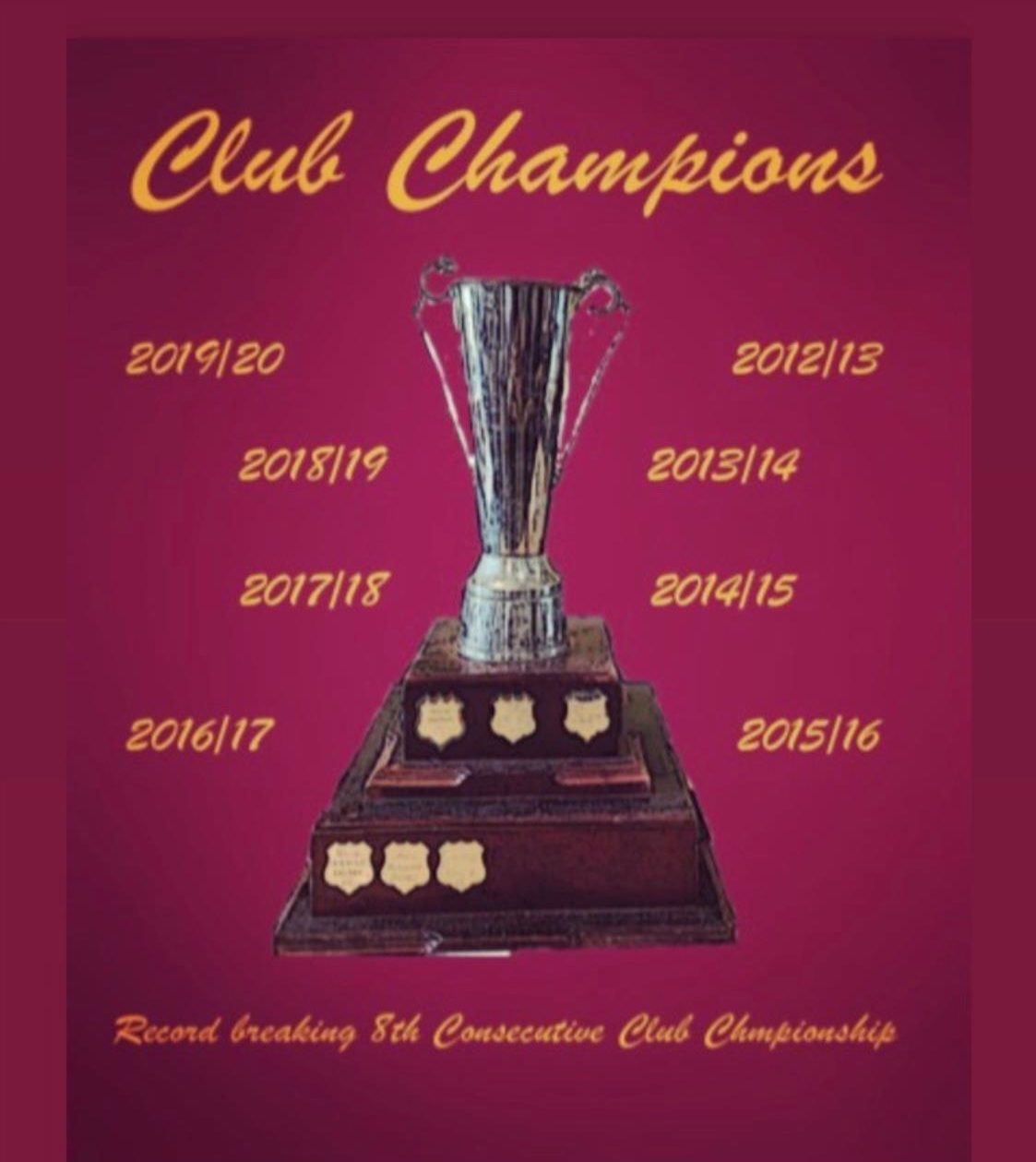 A hard fought first innings win by 2nd grade and a comprehensive outright by 4th grade was enough to seal the title. Earlier today 1st grade and 3rd grade were both washed out because the two worst grounds in Shires, Lindfield Oval and Acron Oval, were both unplayable with neither recovering from the rain on Wednesday and Thursday.
The final Club Champs table for the 2019/20 season for top 3 clubs looks like this;
1st – Briars 1229
2nd  – Auburn 1163
3rd – Warringah 1095
1st grades wash out will probably mean they finish 2nd going into next weekends semis and 3rds will also most likely finish second on the ladder.
2nd grade had to earn their win against 6th placed Lindfield on a cracker of a deck at Ron Routley Oval. Lindfield looked well placed at 4-157 before the Briars turned the screws thanks to an inspired spell from Elliott Ralph who took 6 of the final 7 wickets to fall and we knocked over Lindfield for 187 with Ralph taking an amazing 7-29 and James Webb 2-36. The guys finish in 2nd spot with the semis commencing next weekend…see the boys singing the winning song below, great season so far guys!
4th grade dominated their clash against Lindfield demolishing their batting in both innings. Lindfield resumed at 6-36 chasing our 4(dec)202 and were knocked over for just 52 in their first innings with Paul Pannuti taking 4-6, Greg Metcalfe 3-0 and James Threlkeld 3-8. We sent them back in and rolled them a second time for just 44 with Threlkeld taking 5-6, Metcalfe 3-13 and Pannuti 2-8. A huge 10 points and a first or second  place finish for 4ths before next weeks semis!
To cap off a great day Briars Gold clinched a semi final spot with a good win over Auburn in the DC Cup. Batting first we made 8-175 off our 40 overs with Harry Lee making 50, Matthew Harrington 30 and Cyrus Govekar 23. In reply we knocked Auburn over for 142 with Harry Lee taking 3-8 and James Benchoam 3-23…well done guys!!
Congratulations to everyone on another incredible season, so far, our 8th successive Club Championship and 23rd overall(next best is Epping with 8). It will be a massive night at the Briars tonight, make sure you are there to celebrate an amazing achievement!
01/03/20 – A couple of good wins in the lower grades today.
Our 5th grade with a few old mates(below)in the team played Lindfield at dusty old Acron Oval(also below) and had a comprehensive bonus point win. Bowling first we knocked Lindfield over for 72 with Jason Tran on fire taking 4-8 off 8 overs, Zac McKenzie bowled very well to take 3-6 off 6 overs and Anthony Clarke took 2-22. We knocked off the runs in the 23rd over 2 down with Paul Price making 29 and youngster Cyrus Goveker 19no.
In the DC Cup today Briars Gold kept their semi final hopes alive with a big win over Briars Rivals. Batting first Gold made 148 with Matthew Harrington making 43 and Vrish Pendyala 23 and for Rivals Prabhu Murali took 4-30 and Sreejith 2-38, the Gold bowlers then restricted Rivals to 8-87 off their 40 overs with Gordon taking 3-21, Taylor 2-10 and Benchoam 2-16 to secure a bonus point win.
Briars Brothers went down to Auburn Green 248 to 50 with Harris Khan taking 3 wickets and will need to win next week and hope results go their way to make the semis.
See you all at training on Wednesday from 430pm at the Briars Nets as we enter the final weekend before the semis finals with our focus on an 8th successive Club Championship!
29/02/20 – A really good day one against Lindfield today with all grades in strong positions.
1st grade batted first and declared 9 for 251. Brad Maguire continued his excellent form making 74 as did Jack Thomas who batted well again making 69 and Brenton Wright made a stylish 44. Lindfield faced 8 overs and are 0-17 at stumps.
2nd grade batted well after winning the toss against 6th placed Lindfield at Ron Routley Oval to finish 7-265. Jack Rogers batted well to make 71, Harry Peters made a patient 69, Brett Bastow 35 which included 4 x 6's and Tommy Moffitt 25.
3rd grade were sent in and also batted really well to declare 5-270, Tommy Jackson made 79, Ash Sharma 76 and Shreyas Patel 51no. In reply Lindfield are 2-29 at stumps.
4th grade were also sent in and hammered 4 declared for 202 off 48 overs, Saurabh Ganguly plundered 106no and Jeremy Wedd made a well compiled 43no. In reply we have ripped through Lindfields top order to have them 6-38 at stumps.
01/02/20 – Reasonably good day in oppressive conditions today with all grades having play suspended at different times due to the temperature exceeding 43 degrees.
1st grade did really well to bat the day out finishing 8-229 at stumps. Maxy Squire played a great captains knock with 62, Jack Thomas made 38 and Jack Kovacic 31no and Diren Reddy 26no added an unbeaten 54 at the end of the day.
2nd grade did well to dismiss Strathfield for 198, we had them 5-41 at one stage but a valuable late order partnership in the heat enabled a late flurry, best of the bowlers was James Webb with 4-19 and Jack Rogers 3-51. We are 0-12 at stumps.
3rd grade dismissed the comp leaders for 131 with Greg Metcalfe picking up 4 wickets and we are 4-38 at stumps. A great effort in the field by the guys!
4th grade were also playing the comp leaders and and batted really well to finish 7-229 at stumps with Mathew Matthew Harrington making 41, Tristan Stansfield 40 and Karkare 33.
25/01/20 – The Briars have had a sensational day today with a clean sweep against Balmain/Souths and bonus points wins in 2nd, 3rd and 4th grades.
1sts were sent in at Alan Davidson Oval against the 5th placed Balmain/Souths and were patient in compiling 8-220 off their 50 overs with skipper Max Squire making 62, Jack Thomas 54 and Tim Rose 27. The guys combined well in the field with an attack minus our two strike bowlers this game(Kova and BJ) and restricted the bunnies to 9-195 with Brad Maguire the surprise packet taking 3-22 and Arky 2-33-a massive 6 points for the 1sts.
2nd grade dominated their clash, we rolled Balmain/Souths for 110 with Atul Mahajan taking 3-15 and Brett Bastow 2-9. We cruised to victory in the 28th over with James Jamie McLeod making 62no and Matt Roper 27- big bonus point win!
3rd grade also had a comprehensive win, we amassed 8-325 off our 50 overs with Ash Sharma making 93,  Raoul 58 and Patel 40. The guys then rolled the bunnies for just 70 with Elliot Ralph taking 7-37 and Sam Tregeagle 2-29-another valuable bonus point win!
4th grade were also way too good and smashed Balmain/Souths, we made 272 with Kova playing as a bat in 4s getting 54, skipper Lloyd Andrews 46 and Sanket 41. We knocked over the bunnies for 112 with Greg Metcalfe taking 5-38 and Sanket 2-0 completing a vital bonus point win!
Well done guys, a fantastic day and huge for club champs!
11/01/20 – As expected there were some tough battles across all grades today against Auburn.
1st grade were sent in on a tacky Mona Park deck and made 212 with Tim Rose top scoring with 54 and Diren Reddy made 33no. We fought hard in the field but the pitch had settled and we couldn't get the key breakthroughs and were passed 4 down in the 48th over with Brenton Wright taking 3-45.
2nd grade had a huge bonus point win in their grand final replay. We rolled Auburn for just 99 with Alex Vendrasco taking 4-21, Darren Leichsenring 3-29 and Atul Mahajan 2-29. We lost a few early wicket but cruised home 4 down with James Mcleod making 35no and Brett Bastow 24no.
3rd grade had an incredible tie. Bowling first Auburn were 0-61 before a Chris Iaquinto hat trick with his first three balls enabled us to knock them over for 142 with Iaquinto taking 7-40. We were 8-81 in the chase but recovered and it went down to the last over with Paul Pannuti 27 and Paul Simpson 25 nearly grabbing the win but we lost our last wicket on 142 and share the points.
4th grade had a huge bonus point win too, bowling first we dismissed Auburn for 140 with Sanket Karkare(below) taking 5-24 and we achieved the win comfortably 5 down with Rahul making 40 and Saurabh Ganguly and Harry Lee 25 each.
After today results we have snuck ahead of Auburn in the Club Champs battle but are probably in 2nd place now behind Warringah with 5 rounds to go.
21/12/19 – A great finish to Round 7 today against Mounties/Southern Districts with the top 3 grades winning including a vital outright from 2nd grade
1st grade had an enormous win against the premiers of the last 3 seasons in oppressive conditions at Rothwell Park. Defending 275 the guys worked well together but the star again with the ball was Brenton Wright who took 6-95 against his former club. Wright, skipper Maxy Squire and Brad Maguire all contributed sensational individual performances(photo below) but the whole team chipped in with vital run outs, stumpings and catches at crucial times and we dismissed the premiers for 221.
2nd grade totally dominated their game against Mounties and picked up a big 10 points today on the back of a record opening stand of 207 from Tommy Moffitt with an incredible 150 not out and Jamie McLeod 102(photo below). We declared 3 for 265 after dismissing them for 108 in the first innings and we rolled them a second time for 92 with Darren Leichsenring taking 3 wickets and the rest of the wickets were shared.
3rd grade had a typical hard fought Briars win chasing 152. Resuming at 4-30 we were up against it but sensible pressure batting got the guys home, Neeraj Arora made a handy 37 before Phil Maxwell held the bottom order together with a match winning 60. Alex Vendrasco made an important 13 not out and the guys won 9 down in a heart stopper!
4th grade fought hard but went down to the competition leaders. Defending 128 we were passed 5 down, Mounties declared 6-185 and we were 3-68 in our second innings with Pat Roach making 30 not out and Matt Harrington 22 when the game was called.
A great day against a very strong opposition and a super way to head to the Christmas break with important club championship points!
14/12/19 – Reasonable day across the grades against Mounties/Southern Districts today.
1st grade did really well to bat all day against the reigning premiers and were dismissed right on stumps for 275. Brad Maguire(below) set the innings up with a very stylish 83 against his former club and skipper Maxy Squire smashed a magnificent 92(6x4s and 5x6s) and combined for a valuable last wicket partnership of 50 with Damian Price. Jack Thomas 27 and Tim Rose 25 also chipped in with important contributions.
2nd grade absolutely dominated their game against Mounties, bowling first we rolled them for 108 with Atul Mahajan taking 5 wickets and Darren Leichsenring 3. James McLeod 95no and Tom Moffitt 85no(below) have combined to put on an incredible record 183 for the opening partnership and we take 6 points on day one without losing a wicket.
3rd grade dismissed Mounties for 152 with Elliot Ralph taking 5-51 and Phil Maxwell 2-12 and we are precariously placed at 4-30 at stumps.
4th grade batted first against the competition leaders and fought hard to make 128 on a slow pitch and we have Mounties 1-36 at stumps off 23 overs.
Under 24s take on Mounties out at Greenway Oval tomorrow in a vital 4th round clash so please pop out and support the guys.
7/12/2019 – The Briars have had an amazing day clean sweeping rivals Georges River.
Not a bad day against North West Sydney today.
1st grade didn't start until 330pm because of the air quality and defending 6(dec)308 we knocked over the Hurricanes for 211 with Mr Consistent Brenton Wright taking another 5 wicket haul with 5-41, Arky Arora 2-35 and Steve Davis 2-38, a valuable 6 points.
Second grade defended 224 rolling NWS for 146 with Damian Price taking 4-43 and Atul 3-41.
3rd grade batted poorly chasing 137 and were dismissed for 120.
4th grade had an easy outright win, defending 6(dec)284 we dismissed NWS for just 43 and 63 with Paul Panutti taking 8-14 and 1-10 and Fisher and Sanjay taking 3 wickets each-a big 10 points!
Our Under 24s made it 2 from 3 with a good win over Balmain/Souths today. Batting first the guys were patient in compiling 5-182 off their 50 overs with Phil Maxwell making 45no, skipper Diren Reddy 34no and Anton Demark 27. The Bunnies got off to a flyer and were 0-41 off 6 overs before Damian Price dismissed their main bat and a couple more followed and we had them 3-46, despite a couple of small partnerships from Souths the guys combined well to eventually dismiss them for 128 with Damian Price(below)taking 5-58 capping off a 9 wicket weekend for him(after taking 4 in 2s yesterday). Great win guys!!
In the DC Cup this weekend Briars Gold 1-99, with skipper Smyck making 50no and Gordon 25, hammered Strathfield 98 with Taylor and Dutta picking up 3 wickets each. In the other games Briars Rivals made 83 and narrowly went down to Auburn 89, Briars Brothers fell short making 180 chasing Mounties 205 and in 5th grade we made 170 with Paul Sultana getting 30 but were passed 5 down.
The top 3 clubs in the club championship after the weekend results are;
Auburn 639
Briars 637
Warringah 631
23/11/2019 – The Briars have had an amazing day clean sweeping rivals Georges River.
1st grade proved again how valuable runs on the board are and pressurised the River out of the game today. Defending 165 the guys turned the screws and dismissed them for 121 thanks to some excellent spin bowling by Brenton Wright 3-20, Arky Arora 2-10(and two great catches) and paceman Damian Price 2-20(and a super catch) to clinch the victory.
2nd grade were dismissed for 155 chasing 121 with Karl Vendrasco making 54 and skipper Brett Bastow 45no. We had Georges River 7-50, then 8-143 and all out 146 with Iaquinto taking 4-20, Darren Leichsenring 3-18 and James Webb 3-7. We needed 112 off 20 overs for outright and got the runs 5 down in the 19th over with Seb Blaszczyk belting 60 and Harry Peters 26…a huge 10 points!!
3rd grade demolished Georges River(not the only thing demolished at 3s), defending 8(dec)270 the guys were too good and we rolled the River for 126 with Alex Vendrasco taking 4-27 and Jack Rogers 4-26.
4th grade pulled off one of the great Briars victories, chasing 213 we were 8-112 at tea but an incredible 82 not out by Greg Metcalfe, 26 by Will Studley(72 run partnership) and a handy 10 not out from Tommy Threkheld(30 run partnership) got the guys home 9 down!!
Our Under 24s play North West Sydney at Rothwell Park tomorrow so let's get down and support them and hopefully cap off a remarkable weekend!
16/11/19 – Challenging day across the grades against Georges River today
1st grade just couldn't get going with the bat and were dismissed for 165 with Jack Thomas performing well again with an excellent 71 and Tommy Parton made 30. We picked up two vital late wickets to give the guys a sniff defending runs on the board and Georges River are 3-58 at stumps.
2nd grade bowled really well to dismiss Georges River for 120 with Chris Iaquinto taking 3-17, James Webb 3-20 and Darren Leichsenring 3-33. We were in a bit of strife at 5-54 but have recovered to be 5-103 at stumps with Karl Vendrasco on 42no and skipper Brett Bastow 15no.
3rd grade were once again dominant declaring 8-270 with Tommy Jackson(below) belting a brilliant 141 and at stumps Georges River are 0-6.
4th grade toiled hard all day and eventually dismissed Georges River for 213 right on stumps with Will Studley taking 4-31 and Greg Metcalfe 3-43.
In 5th grade we had a comprehensive victory, Briars made 5-152 with Rahul making 48 and Brett Howle 34 and we rolled Lane Cove for just 49 with Rahul capping off a great game taking 4-10 and veteran Anthony Clarke 4-14.
In the DC Cup Briars Gold had a great win against the strong Ryde Hunters Hill, we dismissed them for 120 and got the runs comfortably two down with Harry Lee making 53no and Vish Pendyala 51no.
See you all at Rothwell Park tomorrow for the Back to Briars day as our Under 24s take on Auburn in round one of that Comp.
09/11/19 – Solid day with 3 out of the top 4 grades winning against Lane Cove.
1st grade had an incredible 1 run win defending 126(some photos below). The Covies were 5-97 on a road before losing 4-7 and were eventually dismissed for 125 with Brenton Wright once again firing taking 4-31, Steve Davis 3-23 and Diren Reddy 3-34.
2nd grade weren't at their best, chasing 186 we were knocked over for 140 with Brett Bastow getting 62, we had the Covies 6-140 in their second innings with Damian Price taking another 3 wickets when the game was called.
3rd grade picked up a massive 10 points, coming into day two with a first innings lead of 167 we rolled Lane Cove a second time for 132.
4th grade nearly snared 10 points after rolling Lane Cove for 95 chasing our 9(dec)221 with Panutti 4 and Rogers 3 the wicket takers. We had them 8-59 in their second innings when time ran out.
In DC Cup today Briars Brothers knocked over Briars Gold in the last over chasing 130 and Briars Rivals went down to Ryde Hunters Hill.
03/11/19 – Not a bad day across the 6 grades today.
1st grade had to battle hard all day on a tough Tantallon Oval deck and slow outfield posting 126 after being sent in with skipper Maxy Squire making 32 and Arky Arora 26 and at stumps we have the Covies 4-43 with Diren Reddy taking 2-10.
2nd grade dismissed Lane Cove for 186 with Damian Price taking 4-43 and Atul Mahajan 3-55. We are 5-92 at stumps with Brett Bastow 32no and skipper Brad Sculley 22no.
3rd grade had a huge day, we rolled the Covies for 119 and we are 4-255 with Alex Peters smashing a quickfire ton.
4th grade declared 9-221 with Karkare making 61no and Pat Rogers 56 and we have Lane Cove 2-13 at stumps.
5th grade had a huge win over Lindfield, we made 5-191 with Harrington making 42, skipper Howle 38no and Workman 32 and we knocked Lindfield over for just 70.
In the DC Cup today Briars Gold  smashed 211 with Cullen making 71 and Dutta 61 and we knocked Auburn over for 156.
26/10/19 – A clean sweep of all grades against Macquarie university.
Fantastic day today with a clean sweep of all grades against Macquarie University. In oppressive conditions 1st grade and 3rd grade had comfortable first innings wins at home whilst 2nds and 4ths had to battle the heat and the unsuitable Macquarie Uni facilities and both had strong wins.
1st grade were defending 8(dec)269 and rolled the students for just 82 with Brenton Wright(below)continuing his excellent form taking 6-25 and Jack Kovacic 2-30. We put Uni back in and they were 4-144 with Kova taking 3-42 when stumps were drawn.
2nd grade had a huge win and just missed an outright, defending 206 we rolled the students for 118 with Damian Price 3-23, Mick Towells 3-28 and Atul 3-35 bowling well. We then declared 3-124 with Kale Barton making 42 and Alex Peters 35no and Uni were 9-120 in their second innings.
3rd grade also fell just short of an outright, defending 7(dec)310 we dismissed Uni for 122 with Darren Leichsenring taking 5 wickets and James Threkhold 4 wickets and we had them 8-115 in their second innings when time ran out with Shrey taking 5 wickets.
4th grade had a solid win chasing 155, the guys got the runs 7 down with Saurabh Ganguly making a handy 50 and Jake Wright 36 and their good start to the season continues.
23/10/19 – A good day one against Macquarie uni. 
1sts made 8(dec)269 with Tom Parton(below) smashing another ton, he made 111 and Jack Thomas 66 and we recovered from 5-62 and have the students 1-16 at stumps.
2nd made 206 with Harry Peters making 82 and we have Macquarie uni 5-77 with Damian Price taking 3 and Atul 2 wickets.
3rd grade smashed 7(dec)310 with James Jamie McLeod belting another ton and Sharma 66 and we have destroyed their top order leaving them 4-15 at stumps with Darren Leichsenring taking 4-3.
4th grade bowled really well on a flat deck to dismiss Macquarie uni on a slow old day for 155 with Elliot Ralph taking 4-38 and Greg Metcalfe 3-15.
Our 5th grade team made 100 and were passed 4 down by Georges River.
06/10/19 – Cricket Report – Briars v Epping
A solid rain affected day one against Epping today in the battle for the Turnbull/Richardson Trophy.
1st grade didn't start until 210pm and played just 54 overs and at stumps we are 8-196. Brenton Wright continued his excellent start to the season making 52 and Jack Thomas made 47 on his return innings to the Briars.
2nd grade had a very good day, after being sent in we made 5 declared for 291 and we have Epping 2-10 at stumps. Our English import Tom Parton(video below) blasted 120(16x4s, 2x6s) and combined with Harry Peters 89 for a 4th wicket partnership of 203. Mick Towells picked up two vital Bulls wickets at the end of the day.
3rd grade have already picked up first innings points, Epping were 2-73 at one stage before collapsing to be dismissed for 105 with James Threkhold picking up 3 wickets and Darren Leichsenring and Jeremy Wedd 2 each. We are 8-114 at stumps with Alex Alex Favotto making 40 and Patel 37.
4th grade toiled hard all day after starting late to dismiss Epping for 106 with Harrison Green taking 4-40, Karkare 2-14, Buchanan 2-16 and Studley 2-24.
Our 5th grade had a very good narrow win over Auburn today. Batting first we made 8-111 off our 40 overs with Pat Roach making 43 and we knocked over the Eagles for 106 with James Bakker taking a match winning 5 wicket haul.
Huge thank you to both Tabs and Gareth who captained in today's inter club game at Ron Routley for those players not playing this round, it was a really worthwhile match.
Our 6th grade teams fell short today, Gold were dismissed for 83 chasing Mounties 121 with Elliot Ralph and Vince Cleary picking up 3 wickets each whilst Rivals fell just 8 runs short chasing Mounties 123 after Vivek took 3-32.
Well done to our Classics(over 50s) team who had a great first round 4 wicket win over the Cricketers Club of NSW last weekend. Andrew Blaikie and Warwick Hayes both made 30s in our chase of 143 with Gus Fernando 3-16 and Dave Trewin 2-10 leading the way with the ball.
Training is outdoor this week with daylight saving meaning it will be back to the normal Wednesday sessions.