Briars Rugby Union News 2023
2023 Social Calendar
The new Briars Rugby Union season gets underway on the 1st of April at Rothwell Park. Games start from 11.40am, we hope to see as many of you there as possible and look forward to a great season ahead.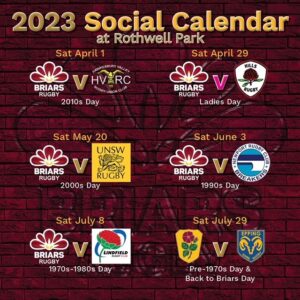 Quarterly Report – February 2023
Briars Senior Men's Rugby February 2023 Update        
Season 2023 is underway for Briars Rugby in a very special season, our 100th year of rugby. This season we have two new coaches joining us from Randwick, unfortunately not Eddie Jones (although we tried), but in fact Joe Picone and Finau Makamaka who have guided their teams at Randwick to a swathe of premierships and undefeated seasons and we are looking forward to their immense talent and drive this season. We have also switched to training one night a week (on Wednesdays) where it will be a longer, more intense and structured session that fits in with our busier schedules these days and allows us to hopefully attract talent from other clubs who train across three session per week.
Rothwell is looking fantastic after 3 years of rain it seems and there are plans to have a plethora of events in tribute of the momentous occasion that is turning 100. Aside from our traditional Rugby Lunch with excellent speakers as usual, there will be home game reunion days for all recent decades for a chance for all our old boys to catch up and celebrate their time at Briars and watch the next generation.
We are looking forward to a fantastic and exciting season ahead, and for those with desires to wear that hallowed Gold jersey once more, Joe expects you at training, boots on, 6:30pm Wednesday 1st February and every Wednesday after that before Round 1.