Congratulations to Daisy & Yuvray who were awarded Briars Junior Cricketers of the year
Our junior cricketers of the year for season 2019-2020 have several things in common:
They're both champions with the bat, can keep wicket, both train hard, take on advice from their coaches, and both have already cracked Premier Cricket.
We congratulate champion junior female Daisy Webster and champion junior male Yuvraj Dalvi for their sensational seasons.
Daisy co-led the Concord Briars U15 Girls Division 1 team to be champions of the Sydney Sixers League. On the way Daisy scored 184 runs for Briars across their 2 seasons (girls teams play a Spring & Summer season) with an average of 26.29 and a highest score of 45.
Daisy was also selected to participate in the NSW Academy program, and to the Margaret Peden U15 representative team for Canterbury & Western Suburbs.
In just Daisy's third season with Concord Briars, Daisy also had a successful outing at the 2019 Kookaburra Cup where the team won the U14 Shield.
During Daisy's knock against Marrickville for her personal-best 45, she fell 30cm short of the boundary, just missing her first 6. Her 2020-21 goal is an unbeaten 50 and many 6's!
Daisy has also played premier cricket with Sydney Cricket Club, contributing to their premiership of the U18 Brewers Shield in 2020, experience which has helped her to develop her Saturday Club cricket game.
Daisy also took 11 wickets for an average of 16.73, and her best bowling was 3/14 against Easts.  Daisy also held onto a number of catches, had 1 stumping and a run out.
Daisy would be the first to say that cricket is a team sport and would like to thank her team mates for their backing, friendship and motivation.  The team have a great work and friendship ethic that led to last season's successes both at a team and personal level.  The goal now is win back-to-back premierships with Concord in the Open Age Women's competition (and get that 50!).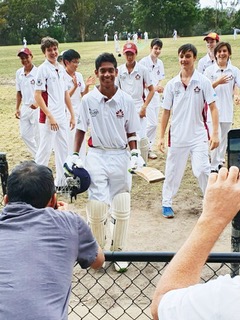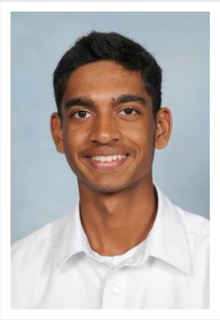 Yuvray also had a stunning 2019/20 season and the statistics tell the tale: He topped the NDJCA U15/16 Lillee competition batsmen with an amazing average of 119.50.
Yuvraj lives and breathes cricket and given any opportunity, loves to train and play and work on his craft. He started playing backyard cricket as a toddler, and started comp cricket with Dundas United as a 7-year-old. He later played 3 seasons for Strathfield before joining Briars in 2016/17. Although a specialist pace bowler early in his career, the past 2 years have seen him blossom as a batsman. While comfortable opening the batting or finishing games with a quickfire flurry, he is the quintessential all-rounder, equally adept at keeping wickets when called upon.
Yuvraj – a year 10 student at Concord High — captains his school's cricket team. He played Shires cricket for Auburn DCC for 2019/20 where he top scored with 61 not out, and has recently qualified to play Premier Cricket with Sydney University.
Having had very little formal or dedicated coaching in the past, Yuvraj's success can be mainly ascribed to his natural ability and love for the game, the camaraderie that he shares with his summer and winter cricket teammates at Briars, and the guidance and encouragement he's received from his parents and coaches.  His work ethic is second to none and we hope his career continues to flourish.
Daisy and Yuvraj are great role models for all our young cricketers – congratulations to both for being Concord Briars 2019-2020 junior champions!
Season 2019-2020 Junior Cricket Awards – The WINNERS!
As all will know, due to current health restrictions we have had challenges bringing everyone together to celebrate the achievements of our young cricketers at our annual awards day for the Season 2019/20.
On behalf of the Briars Sports Club and Junior Cricket Committee  let's acknowledge and celebrate the players who have won the following awards.
| Player of the Year | |
| --- | --- |
| Male | Yuvraj Dalvi |
| Female | Daisy Webster |
Special Awards
| | | | | | | | |
| --- | --- | --- | --- | --- | --- | --- | --- |
| ASSOC | TEAM | Round | Player Name | Batting Milestone | Score | Bowling Milestone | Score |
| NDJCA | U15/16 Maroon | 3 | Yuvraj Dalvi | 100 runs | 100* | | |
| NDJCA | U15/16 Maroon | 4 | Yuvraj Dalvi | 100 runs | 101* | | |
| NDJCA | U15/16 Maroon | 3 | Jackson Kent | 100 runs | 100* | | |
| Sixers | U17 Sunday Maroon | 7 | Benny Brooks | 100 runs | 100* | | |
| Sixers | U13 Saturday PM Maroon | 5 | Gabriel Encina | | | Hat Trick | |
| IWHJCA | U10 Blue | 13 | Vihaan Shah | | | 5 wickets | 6/13 |
| Sixers | U12 Sunday Maroon | 12 | Hamish Malone | | | Hat Trick | |
| Sixers | U13 Saturday PM Maroon | 1 | Aidan Lang | | | Hat Trick | |
| IWHJCA | U10 Blue | 4 | Ari Mansford | | | Hat Trick | |
Team Awards
| | | | | |
| --- | --- | --- | --- | --- |
| ASSOC | TEAM | COACH AWARD | BEST BATTER | BEST BOWLER |
| NDJCA | U15/16 Maroon | Yuvraj Dalvi | Yuvraj Dalvi | Gabriel Steel |
| NDJCA | U14 Maroon | Marco Iacovitti | Xavier Busch | Edward Newton |
| NDJCA | U13 Maroon | Thomas Dunphy | Will Sims | Jack Broadbent |
| Sixers | U17 Sunday Maroon | James Hawkins | John Papathanasiou | Benny Brooks |
| Sixers | U15 Sunday Maroon | Angus Reen | Luke McSweeny | Alexander Colreavy |
| IWHJCA | U14 Saturday PM Maroon | Srisatwik Bhogadi | Jack Roberts | Luke Hill |
| IWHJCA | U14 Saturday PM Gold | Ryan Michel | Jarvis Cheung | Zack Narayan |
| Sixers | U13 Saturday PM Maroon | Lachlan Wodson | Liam Lenord | Rafferty Kitching |
| Sixers | U14 Sunday Maroon | Arpan Desai | Roan Fahy | Lochlan Demark |
| Sixers | U13 Sunday Gold | Jayden Skuse | Matthew Morozoff | Benjamin Ronan |
| Sixers | U12 Sunday Maroon | Oscar Todd | Jack Edwards | Guinness Devlin |
| Sixers | U12 Sunday Gold | Alexander Stewart | Alexander Stewart | Alexander Stewart |
| IWHJCA | U12 Maroon | Luke Ellison | Raffy Yardy | Dhruv Dawar |
| IWHJCA | U12 Gold | Josh Robinson | Talan Irving | Kobe Cheung |
| IWHJCA | U12 Black | Luke Strmecki | Luke Strmecki | Luke Strmecki |
| IWHJCA | U11 Maroon | Edward Huynh | Edward Huynh | Henry Joyce |
| IWHJCA | U11 Gold | Krishna Nair | Aayush Parikh | Xavier Tavano |
| IWHJCA | U11 Black | Hamish MacLeay | William Goldsworthy | Hamish MacLeay |
| IWHJCA | U11 White | Achyuth Arunraj | Aaryn Jamwal | Kian White |
| IWHJCA | U10 Maroon | Oscar Halliday | William Malone | William Malone |
| IWHJCA | U10 Gold | Max Celegon | Finlay Kitching | Hayden Milson |
| IWHJCA | U10 Black | Luke Maronese | Luke Maronese | Flynn Grainger |
| IWHJCA | U10 White | Malcolm MacKenzie | Siddharth Siby Babu | Siddharth Siby Babu |
| IWHJCA | U10 Blue | Matthew Tydd | Vihaan Shah | Vihaan Shah |
| IWHJCA | U10 Green | Lachlan Gacitua | Henry Perkins | Tom Knight |
| IWHJCA | U10 Yellow | Max Lygoyris | Dimitri Paleologos | Riley Grant |
| IWHJCA | U9 Maroon | Ben Hooker | | |
| IWHJCA | U9 Gold | Joshua Nixon | | |
| IWHJCA | U9 Black | Ethan Jovcevski | | |
| IWHJCA | U9 White | Noah Richards | | |
| IWHJCA | U9 Blue | Lachlan Tucker | | |
| IWHJCA | U8 Maroon | Tyrone Young | | |
| IWHJCA | U8 Gold | William Hall | | |
| Sixers | U11 GIRLS Maroon (Summer) | Beth Eccleston | Makayla Day | Eden Riley |
| Sixers | U11 GIRLS Maroon (Spring) |   | Eden Riley | Eden Riley |
| Sixers | U11 GIRLS Gold (Summer) | Sinead McLennan | Phoebe Hancock | Freya Hancock |
| Sixers | U11 GIRLS Gold (Spring) |   | Sinead McLennan | Caitlin Collins |
| Sixers | U11 GIRLS Black (Summer) | Suhaan Akhter | Anique Michel | Suhaan Akhter |
| Sixers | U11 GIRLS Black (Spring) |   | Anique Michel | SUHAAN AKHTER |
| Sixers | U11 GIRLS White (Summer) | Nadia Carvalho | Nadia Carvalho | Tara McCall |
| Sixers | U11 GIRLS White (Spring) |   | Nadia Carvalho | Tara McCall |
| Sixers | U13 GIRLS (Summer) | Ruby Turner | Allegra Park | Lily Hancock |
| Sixers | U13 GIRLS (Spring) |   | Kitri Irving | Niamh Collins |
| Sixers | U15 GIRLS Div 1 (Summer) | Meg Wrigley | Gemma Lockhart | Daisy Webster |
| Sixers | U15 GIRLS Div 1 (Spring) |   | Daisy Webster | Audrey Bloomfield |
| Sixers | U15 GIRLS Div 2 (Summer) | Mia Grassia | Elsie Gray | Aoife Foley |
| Sixers | U15 GIRLS Div 2 (Spring) |   | Elsie Gray | Elsie Gray |
| IWHJCA | Master Blaster Maroon | Samuel Miller | | |
| IWHJCA | Master Blaster Gold | Archie Di Donato | | |
| IWHJCA | Master Blaster Black | James Burnicle | | |
| IWHJCA | Master Blaster White | Jacob McGrath |   | |