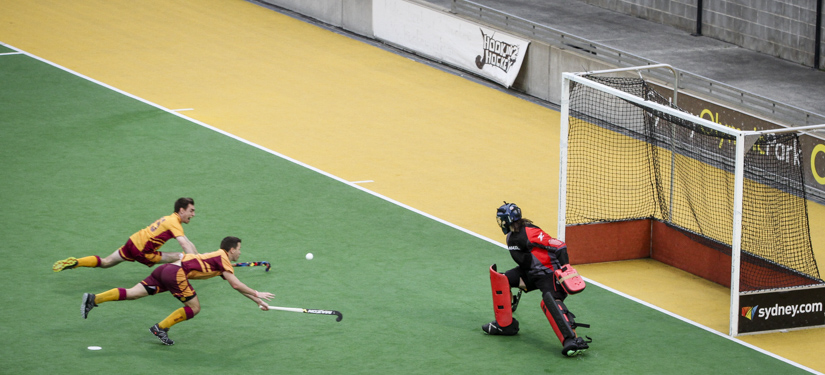 eNews #6 February: Senior Men's & Women's Trial Matches Continue
IN THIS ISSUE:
Representative News
Junior U11 – U17 Competitions – ROUND 1
Senior Men & Women Trial Matches
SHA – Call for Masters Players
Senior Season Launch Event – Sat 14th March
U7 & U9 Minkey Dates
IMPORTANT DATES
Useful Links
REPRESENTATIVE NEWS:
Congratulations to our Briars young guns for making U15 State and Blues teams. Good luck at Nationals, we are all behind you!
Oskar Smith – Boys State
Henry Tyree – Boys Blues
Alex Singleton – Girls State
Christine Flack – Girls State
JUNIOR U11 – U17 COMPETITION ROUND 1:
North Area have advised that ALL junior grades in U11s – U17s will play their round 1 match on either Friday 20th or Saturday 21st March. This is a week earlier than we had anticipated and the important dates list has been updated accordingly.
NEW TO HOCKEY U11 & U13 SQUAD SESSIONS:
The first 2 NEW to Hockey squad sessions kicked off for all U11 and U13 players who are NEW to hockey. These sessions will enable new players to learn the rules, positions, and basic skills at a slower pace, it is also an opportunity for new hockey parents to get out on the field and learn the basics so you can support them at home.
The remaining 2 sessions will be on THURSDAY evenings so the kids can attend regular training with their team mates and receive additional basics coaching.
Remaining DATES: Thurs 5th Mar, Thurs 12th Mar
SENIOR MEN & WOMEN TRIAL MATCHES:
Below is a complete list of upcoming trial matches, if you have questions or are unable to attend please contact:
Men – Corry Allsop | E: corryja30@gmail.com.
Women – Cindy Goodridge | E: Cindy.Goodridge@frucorsuntory.com
MEN – SATURDAY 29TH FEBRUARY @ RYDE VS RYDE
11:00am – SL6 (7th Grade)
12:30pm – SL4 (6th Grade)
2:00pm – SL2 (5th Grade)
3:30pm – SL1 (4th Grade)
MEN – SATURDAY 7th MARCH @ PENNANT HILLS VS NORTHERN DISTRICTS
9:30am – PL1 (Field 1)
9:30am – SL1 (Field 2)
11:00am – PL3
WOMEN – SUNDAY 8TH MARCH @ CINTRA
3 pm – 1st grade v Western Districts
4 pm – 2nd grade v Western Districts
5 pm – 3rd grade v Wenty
6 pm – 4th grade v Wenty
MEN – SATURDAY 14th MARCH @ CINTRA VS GLEBE
12pm – 5th Grade
1pm – 4th Grade
2pm – 3rd Grade
3pm – 2nd Grade
4pm – 1st Grade
WOMEN – SUNDAY 15th MARCH @ CINTRA VS GLEBE
9am – 3pm – grade game times TBC
WOMEN – SUNDAY 22ND MARCH @ BANKSTOWN VS BANKSTOWN
12:30 – 1ST Grade
13:30 – 2nd Grade
14:30 – 3rd Grade
15:30 – 4th Grade
SHA – CALL FOR MASTERS PLAYERS
The tournament forms the basis of selection to the NSW side to participate in the Australian Masters Hockey Tournament to be held on the Gold Coast 30/09/20 through 11/10/20. To be eligible, players must turn 35 or older during this year, and be registered with Hockey NSW.
To nominate, please go to https://smhockey.com.au/representative and complete the form.
SENIOR SEASON LAUNCH EVENT:
Join us to kick off the 2020 season!
When – Saturday 14th March 5pm – 7:30pm
Where – Briars Sports Club – Backyard Deck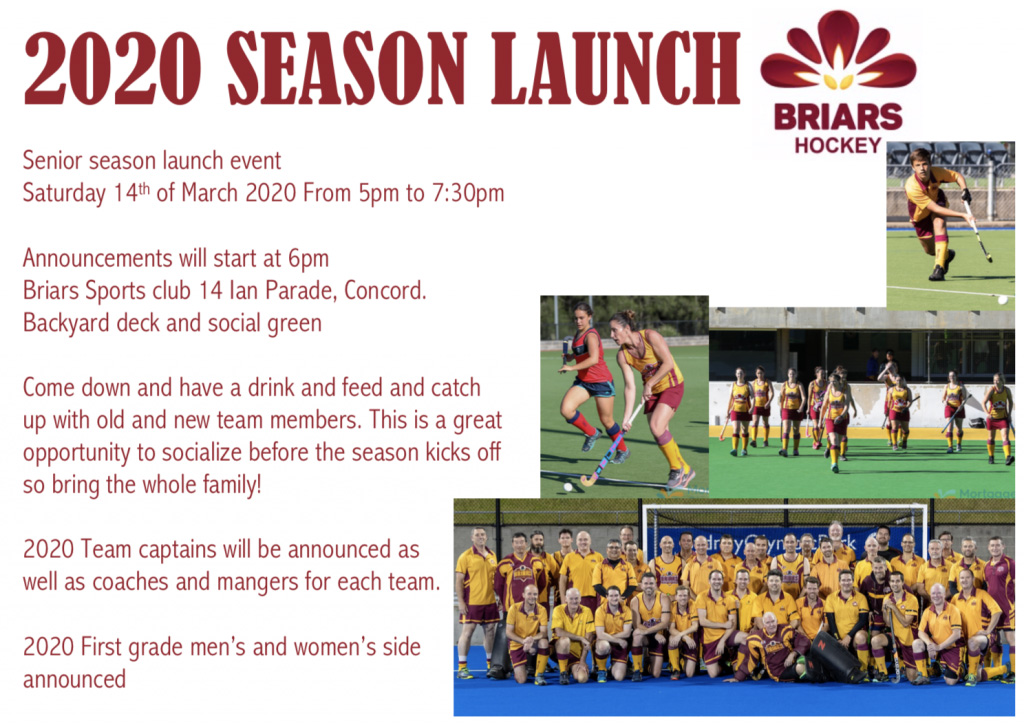 JUNIOR COACHES NEEDED – CORRECTION – U15Cs & U17Cs:
In last week's eNews I put the call out for junior coaches, and I listed the incorrect teams. There are 2 Junior teams still requiring a coach and they are U15C's and U17C's. If you are interested in coaching either of these teams James would love to hear from you.
All Junior coaches receive free playing fees for them or their child, and for those who may not have coached before, but a passionate about developing kids in sport then we have will provide you with guidance, resources and access to experienced coaches to set you up for success.
James Fordham | E: james.fordham@zis.com.au
U7 & U9 MINKEY DATES:
Our U7's and U9's will begin their weekly training on Wednesday 25th March and will follow the schedule below:
Weekly training starts – Wed 25th March 5pm – 6pm (3 weeks of training before school holidays)
No Training 15th or 22nd April – 2 weeks of School Holidays
Weekly training recommences – Wed 29th April 5pm – 6pm
Minkey Competition Round 1 – Sat 2nd May – continues until late August in school terms
UNIFORM & SHIRT NUMBERS:
A reminder that all Briars Hockey uniform items can be purchased from our uniform supplier xpress promotions via the link below. For senior men and women you require a shirt number to be able to purchase a playing shirt. Please contact the contact people below to be allocated a shirt number, or remind you of what yours is!
Women's Shirt Numbers: Cindy Goodridge | E: cindy.goodridge@frucorsuntory.com
Men's Shirt Numbers: Mike Denniss | E: registrar@briarshockey.com.au
IMPORTANT DATES:
Below are the important dates for the Junior's, Men's and Women's playing groups. Please review these lists each week for new important dates will be added as they become available.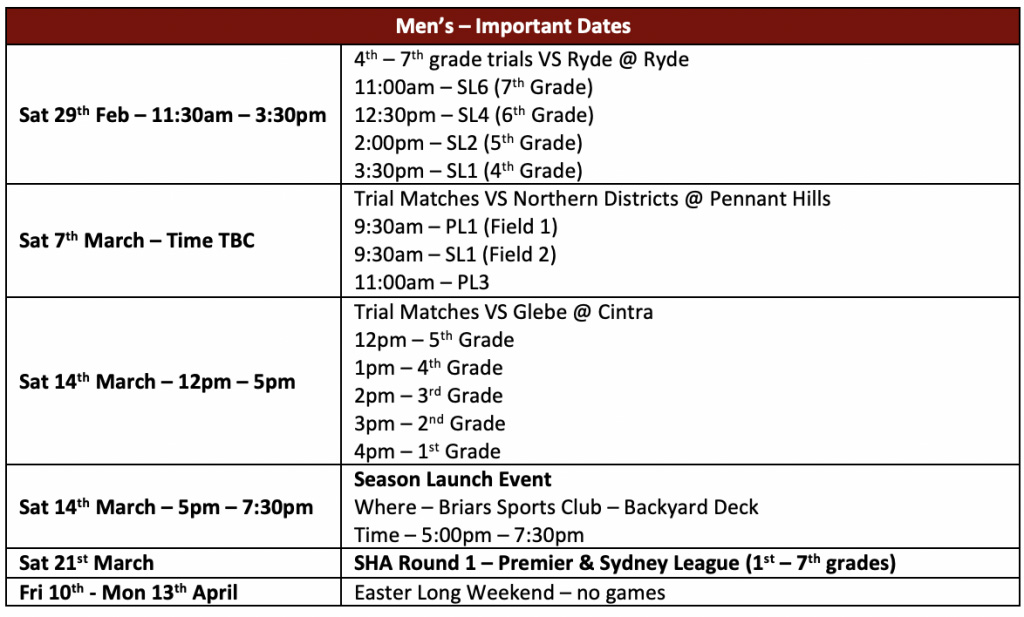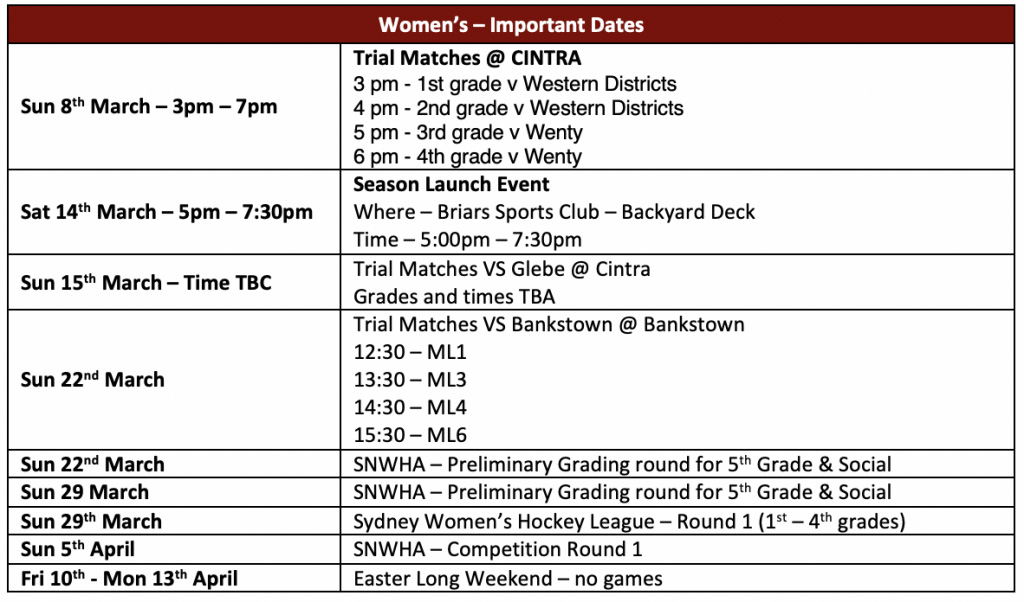 USEFUL LINKS: